Major-General David Goodman
The Times 16th October 2000
Officer who promoted the Army's use of helicopters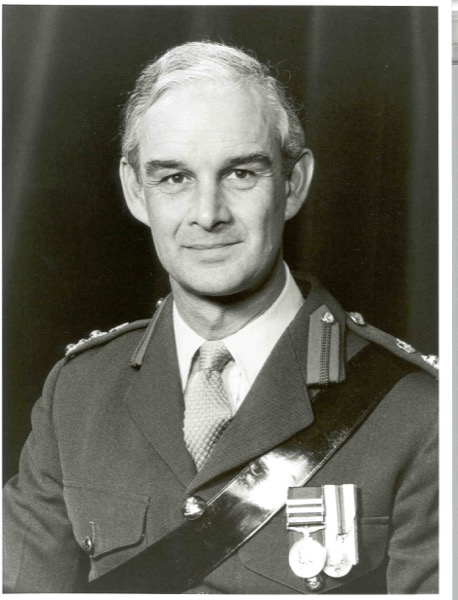 The notification of the Salisbury Cathedral service of thanksgiving for David Goodman's life, stipulating "big hats, bold ties and broad smiles – at David's request", captured exactly the style of a man for whom only the best would do. Despite making the strictest demands on himself, his thoughts for others were always paramount, even in the last few days of his life.
After thirty years as a successful artillery officer, he was informed in November 1982 of his selection for the post of Director Army Air Corps the following year. As he was not a pilot, he took the army pilots' course at Middle Wallop, beginning on Chipmunk fixed-wing aircraft and – by resolutely setting aside any professional or personal distractions – graduated on the Gazelle helicopter in time to take up his new job. No matter what their rank, student pilots are judged purely on their flying skills. Goodman came top of his course, so beginning his duties, as someone ruefully remarked, "in a position of significant moral advantage".
His period as Director began when the role of army aviation was on the brink of radical change. Tactical air reconnaissance would remain a key aspect, but the flexibility and robustness of modern helicopters offered scope for offensive battlefield operations, particularly the destruction of enemy armoured vehicles and tanks by airborne guided weapons. Sceptics who argued that helicopters, however agile, would be too vulnerable to ground-based counter-measures were confounded by trials conducted by the British Army of the Rhine and at the British Army training area in Alberta, Canada.
Keen to see the Corps established as a strike force in its own right, Goodman recognised that fully exploiting the advent of a purpose-built attack helicopter – the corollary of the new tactical thinking – would require a radical change in crewing arrangements. His insistence that the pilot and crewman complement used in the missile-equipped Lynx helicopter be abandoned in favour of a two-pilot crew for the attack aircraft initially led to alarm in financial circles. Following his fundamental overhaul of rank structure and training programmes, however, two-pilot manning was achieved within budget by 1990. His foresight led to TOW (tube-launched, optically-tracked, wire-guided) anti-tank missiles being fired in action from Lynxes during the Gulf War the following year. Acquisition of the tandem-seat WAH-64 Apache attack helicopter, which came into service early this year, putting the Army Air Corps firmly in the vanguard of the Army's striking force, was largely thanks to Goodman's vision and determination.
John David Whitlock Goodman was the only child of Brigadier E.W. Goodman, of the Royal Artillery. His early boyhood was spent in India but after his father's capture at the fall of Singapore he attended preparatory school in South Africa before going to Wellington College and thence to Sandhurst. He was commissioned into the Gunners in 1952 and served in Germany until selected to be an instructor at the Mons Officer Cadet School and then back at Sandhurst. In Germany he further developed his performance as an athlete but also as a skier. He won the individual combined title – cross-country and downhill – in 1958.
After the Staff College, Camberley, in 1962, he was on the staff of Headquarters Middle East Command, in Aden, 1964-66, before taking command of J (Sidi Rezegh) Battery of the 3rd Regiment Royal Horse Artillery in Germany. He returned to Camberley as a member of the directing staff in 1971 and was then briefly an instructor with the Sudanese Army in Khartoum.
He commanded 26th Field Regiment RA at Larkhill and then in Germany, 1973-75. This period included a four-month operational tour in the infantry role in Northern Ireland from August to November 1975. Although an IRA ceasefire was supposed to be in place, tit-for-tat killings were frequent and Goodman's troops had to be fully alert in their security duties at the Maze prison, Lurgan and Portadown. A spate of bomb attacks in the first half of September was followed by the explosion of a 200lb lorry bomb outside the Castlereagh police station on October 15, effectively ending any remaining pretence of a ceasefire. It was an active tour.
Goodman was advanced to brigadier after a colonel's staff appointment in Hong Kong, and became Commandant of the Royal School of Artillery at Larkhill. This post brought him much satisfaction, as the Commandant has the future gunner leaders in his care – and care for others was invariably a strong theme in his mind. He attended a course at the Royal College of Defence Studies in London in 1980 and subsequently became one of the two deputy military secretaries, with responsibility for planning the careers of middle-ranking officers of all arms of the Service.
He retired from the Army on completion of his period as Director Army Air Corps in 1987, and was appointed CB the same year. He retained his link with army aviation matters as the chairman of trustees of the Museum of Army Flying. He was for several years a director and adviser to ML Holdings, defence equipment manufacturers, but it was his work as chairman of governors of the Avenue School in Warminster that probably gave him most pleasure. With his wife as secretary, he remained chairman until ten days before his death, despite being paralysed with cancer for the previous six months. He was a lifelong ornithologist and an enthusiastic watercolourist.
He was Honorary Colonel of 26 Field Regiment RA, 1985-92, of 3rd Regiment Army Air Corps, 1987-93, and of 266 (Gloucester Volunteer Artillery) Observation Post Battery RA, 1990-93. He was a trustee of the Kelly Holdsworth Artillery Trust from 1990 and chairman of Sutton Veny Parish Council from 1992.
He married Ann McDonald in 1957. His wife survives him, along with their son and two daughters.