Reminiscences of Schooldays written at Buxton by Thomas Goodman
June & July 1871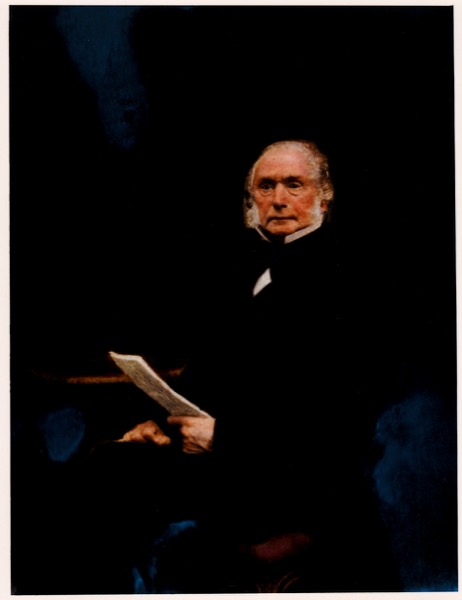 It occurred to me when visiting Buxton last year that reminiscences of my late dear Wife, commencing from the earliest period of her family would be interesting and now I feel disposed to enter upon some particulars of the Goodman family also, as I ought to know more about Peterborough than Birmingham.
I must not go back quite so far as 1642, when my grandfather's grandmother was born. Indeed I know nothing about that generation or the next, therefore I must commence with my grandfather, Feast Goodman, who was born in 1710 and died in 1784. He was so afflicted with asthma that for 20 years he was obliged to sit up in his chair to take his night's rest, being unable to lie down in the ordinary position upon a bed.
Peterborough at that time was a very insignificant place, except for its Cathedral where two Queens were buried. Catherine the first wife of Henry VIII in 1535 and the unfortunate Mary Queen of Scots who was beheaded at Fotheringay Castle within ten miles of Peterborough in the year 1587. I can remember when there were only about 4000 people in the city, and once, when my father was churchwarden, I ascertained that exactly 100 people died that year, and probably about 150 would be born. The picture of old Scarleit in the Cathedral, who lived to the age of 98, tells us in the rhymes underneath
You see old Scarleit's picture stand on hie
But at your feete there doth his body lie
His gravestone doth his age and death time show
His office by theis tokens you may know.
Second to none for strength and sturdie limm
A scarebabe mighty voice with visage grim
He had intered two Queens within this place
And this towne's householders in his lives' space
Twice over: but at length his own turn came
What hee for others did for him the same
Was done; no doubt his soule doth live for aye
In heaven, tho here his body clad in clay.
I must explain that these "tokens" were his spade for digging, the keys of the Cathedral, and a skull which he was supposed to have dug up. I should also state that the cause of his burying the householders so rapidly as twice in his own lifetime, was in a great measure owing to the Plague which occurred at that period. There is now a close at the back of Saxon Barns, lately converted into the Great Northern Railway Station, which is still called "Pest House Close" where the sufferers by the visitation were all buried.
At that time the town was not paved, having only for the causeways those round pebbles which still remain in Birmingham and are often called "petrified kidneys". An aunt of mine who was born in 1746, and was not a very good walker, knocked off the heels of her shoes (which were made remarkably high and narrow) so very often, that the shoemaker said he was tired of the sight of them and would not mend them any longer. Still, such is the power of habit, that she used to say that she preferred the pebbles to the Yorkshire pavement, having been accustomed to them for nearly fifty years. The centre of the road was of course in a very bad state and my father could remember when what is called a Baggage Wagon (which conveyances were always loaded not only with boxes but with women and children belonging to the army) being upset near to our house when a soldier's wife was killed.
In 1792, the year in which I was born, an Act of Parliament was obtained for paving the town and large round cobbles were used for the purpose, which certainly were not very easy for the carriages, but better than the mud holes which were often made before the alteration.
Still the lamps used at that period gave so poor a light with their oil and cotton that the ladies could not possibly pay their visits in an evening without the help of a greater light – and I remember a large glass lantern that we had, containing either one or two candles, to be carried before the family when dressed for visiting. At that time also, Bath Chairs were not known, at least not in Peterborough, and Sedan Chairs, with poles carried by two men, were substituted. They however went along at a good pace and actually took the ladies into the halls or passages of the houses – all of which they performed for 1/- both ways, except on ball nights when they charged 1/6. On such occasions, there being only two Sedans in the town, as they were very strong men they had no objection to carry two at once. These same men were also employed to place out the stalls for the market, which were always brought out from a public house yard close by on Saturday mornings and taken away again in the evenings. I have no doubt that the same family named Jackson continue to do the work until this day, as I saw one of them so employed when I was last in Peterborough.
You may easily suppose, when the streets of the town were so bad, that the roads in the neighbourhood were even worse, so much so that it required 16 hours for the coach to go from Peterboro' to London, which journey is now performed by the Great Northern Railway in two hours. For five or six miles, that is to Stilton, the roads were so excessively bad that extra horses were sent over from Peterborough to meet the coach that they might drag it through the mire. A certain Mr Wood gave a lecture once at the Angel Inn, when he described the state of the roads from London to York and Edinboro' particularly through Stamford and Grantham, where the soil is very chalky, producing in summer a white dust, and in winter the roads became so soft that the lecturer told us that the splinter bars of the Mail coaches to which the traces are attached, scraped along the surface of the road owing to the great depth of the ruts. He also told us that he had conversed with a countryman who informed him that his plough horses had earned him 1£ a day when the guard had induced him to take them from the plough that they might help to drag the coaches along.
At Whittlesea, where Mr Thos Bowker Junr was born, the bye streets of the town were so bad that carriers could not get their carts to the doors of the houses, but were obliged to take out their packages and carry them on their backs. The fens were always considered most fruitful in the production of corn or food for cattle but the roads were so entirely neglected that I have known when riding to my uncle Vergette's that if my pony put his foot into a hole which fitted it very nicely the mud would squirt out above my head. This road always went by the name of Clay Lane, which was certainly a very appropriate title.
Notwithstanding these wretched bad roads the toll gates were so numerous that you could not possibly take a ride without going through one and sometimes two or even three. It was a great blessing to England when McAdam introduced the new system of breaking the stones small and making the road more level, which great improvements are now almost superseded by the Railways. I must here introduce an anecdote which is retaled of a Quaker who kept Sawtry tollbar, about nine miles from Peterborough.
Lord Sandwich who was not only First Lord of the Admiralty but also Postmaster General was travelling, I presume in his carriage and four, when it turned out that no one had remembered the ticket which should have been received at a previous gate near Huntingdon and which would have freed him at Sawtry – in consequence of which the Quaker positively refused to let the carriage pass, and his Lordship was equally determined in refusing to give him 6d for each of the horses passing through, as he argued that the man ought to take his word, knowing that he lived at Hinchingbrook not many miles off. But the toll keeper said that his Lordship helped to make the laws, and he would take care that he should not break them. So I suppose he sat patiently in his carriage, waiting until one of the postillions could return with the ticket.
The navigation at Peterboro' was nearly as bad as the roads indeed much worse for practical purposes, for altho' it was not much more than 40 miles by the road to Northampton, it was such a winding river that the distance was about 100 miles by water besides being so full of weeds that it was almost impassable, and ultimately the repairs of the locks amounted to more than the tolls on the cargoes. Not far off, in the direction of Wisbeach, the water was so low in a dry summer that boats could not be floated over the gravel, although the poor horses were often urged, not only by whips, but by such shouting and screaming as only watermen can give.
Within five or six miles of Peterborough, there was a Decoy for taking Wild Ducks, which belonged to Lord Eardley and was let to a small farmer on condition that half the produce was sent to his Lordship and half retained by himself. The form of it might be compared to a spider, the body representing the centre pool of water, and the legs the branches which were covered with net-work. These nets were almost as high and wide as a Railway tunnel, and very much in that shape, but gradually became lower and narrower until the size did not exceed that of a boy's hoop. The reason of their having as many as eight of these pipes was that the Decoy keeper might make choice of that part of the Decoy where the wind was most favorable for the purpose that is, where the ducks could not smell the breath of the sportsmen, as I may justly term them. A certain number of tame ducks were always kept which were attracted by the appearance of two little dogs, called when I visited the place, "Coy" and "Catchem". Food was then thrown into the water, when the wild fowl, finding there was something good to be had, would join the tame ones, which by that time would be quite under the arch of the net. The men would at the proper moment, shew themselves from behind a wall made of reeds, and beating the net with their sticks would drive the wild fowl until they reached the extreme end, and in fact were completely enclosed in the net which could be unhooked and form a sort of bag in which occasionally, large numbers would be caught at once. They were always sent to London for the market and would often produce 10/- a couple. Indeed if anyone sent to the Decoy for them they would not sell them for less.
I was once visiting at the house during a very severe frost when we heard at night a gentle tap at the door. Presently it was repeated, and when it was opened a youth presented himself who was almost frozen to death and proved to be one of my schoolfellows. He had set off early in the morning skating with several companions from Deeping to Crowland where the Wash afforded an excellent sheet of ice for skating matches. In fact it appeared they had kept on their skates the whole of the day.
On arriving at that part of the river near to the Decoy, the companions of Charles Hardwick, for that was his name, conducted him to the gate of what is called a Drove, the youth being so thoroughly exhausted that he could not proceed any further. This drove, which was only wide enough for one carriage, had a dyke on each side trees being planted on the margin all the way. Hardwick attempted to walk but his feet were so cramped that he very soon found himself in the snow on the surface of the dyke and after travelling for a length of time, sometimes on his hands and knees, repeatedly slipping off the road on to the snow and ice, he reached the farmhouse in safety. All the beds in the house being occupied by the family it was found necessary to put a little child into his father's bed, and when the servant went up with the warming pan for her master, it quite escaped her memory that the child was there until he began to cry from the effects of the warming pan being passed over him. I do not remember that the little sufferer was seriously hurt, but it so happened that the youth's father was a medical man and coming the next morning in search of his son, he was just the person to give advice on the occasion.
In one of my visits at the farm where this Decoy was situated, I espied a small boat which was very similar to a canoe, and constructed only for one person. I must needs try my skill in managing this little home-made floating machine but stepping into it rather on one side, I soon found myself in the dyke, I dare say with the keel of the boat bottom upwards, but as the water was seldom above 3 or 4 feet deep, a moderate ducking only was the result.
On another visit I was shouting as loud as I could to drive away an ox, which frightened me by his fierce looks and suspicious movements, when the old gentleman, Mr Williams, called out to me to beg that I would cease my shouting, or I should frighten the ducks away from the Decoy. Indeed it was considered a very unneighbourly act to fire a gun for any purpose in Borough Fen, as it always had, or at least was supposed to have, the effect of alarming those sensitive birds.
I must now return to the subject of Peterborough. Although not many events of a romantic character occurred in the place what I am about to relate partakes of that nature. A medical man named Hopkinson who had the leading practice in the town and married a lady of fortune, had an application from a person calling himself Alexander Blake, nephew of Sir Frederic Blake, and who had been serving as a medical officer in the army in Spain wishing to qualify himself for country practice. He had not been long in the family before he paid attention to the eldest daughter, by whom he was accepted as her suitor and was introduced by her Father to his circle of friends. It happened on one occasion at a Dinner-party where another military man was present that he said he had received a letter from the Duke of Wellington upon some subject or other, while he was in Spain. The officer remarked to his friends afterwards that he very much doubted the truth of the statement as it was contrary to the etiquette of the Army for the general in chief to write to any inferior officer except through his Secretary, especially one who was only on the medical Staff. This aroused suspicion and the Dean was reported to have asked the father in very plain terms whether he believed all the representations of Mr Blake to be quite true.
The reply was that he was perfectly satisfied upon every point. Not long after this period, the Races took place at Peterborough when Mr Blake appeared on the course with his supposed intended bride and some of her family in a close carriage which he said had been lent to him by his aunt Lady Blake for the occasion. In the meantime many valuable presents had been made to the lady, as Blake assured the family that he would be entitled to a presentation at Court. Still, however, suspicion of his falsehood grew stronger among some more distant relatives as a document had been executed under pretence of its being a marriage settlement which was attested by a church-warden and some other person, I think, in the county of Leicester, where he had once resided. This caused an enquiry to be made in the parish whether a Mr Blake had ever lived there, whether he was single or married and other particulars. The answer was that he had lived there, and that he was a married man and his wife supposed to be still living, but that he had left the town to join the army some years before. Further inquiries were then made which revealed the whole of the intended fraud.
Dr Whitsed who married a cousin of mine was employed to meet this artful deceiver at the inn where he was expected to arrive at Peterborough from London. He took him into a private room where he told him that he had some plain questions to ask him, and begged that he would give him candid replies to them all. First whether his name was Alexander Blake and whether he was the nephew of Sir Frederic. Secondly, whether he was a single or a married man with a variety of other questions to which he assured him that all his representations had been perfectly true. The Doctor very soon undeceived him by telling him the discovery which had been made respecting the pretended deed of settlement, as well as his having a wife and that all he could say was that the father of the lady had no intention to prosecute him, provided he left the town immediately which in fact he could not possibly avoid doing.
I understood there was some difficulty in finding out to whom the carriage belonged as it had been hired from a coachmaker either in London or elsewhere, to whom it was ultimately restored. Some small debts too, were said to be discharged by the family, that more publicity might not be given to the circumstances than was really necessary. The worst part of the story is, however, yet to come, for the father felt so distressed and mortified by the whole affair that his reason was quite upset, and he never recovered from the imbecility which it occasioned. Indeed his life was not prolonged many [years] after the sad event. His daughter was some time after, united to a relative of Bishop Parsons of Peterborough, and son of one of the prebendaries of that name.
I have said very little of the different style of dress which was adopted at that period, that is at the time of my grandfather, about a century since. The dress of my grandfather Vergette was very peculiar, as his coat and waistcoat were always drab, and his buttons silver, having two sets, that he might change and remove them from an old coat to a new one. His wig was what was called a bus-wig (or buzz-wig, according to pronunciation) without any powder, surmounted by a broad-brimmed hat, and having knee and shoe buckles, according to the universal fashion. He died in 1807, so that I had lived myself fifteen years during his life, but my grandfather Goodman died eight years before I was born, so that my knowledge of him is only by report. All the information I have of his style of dress, was that the pockets were so low in the coat that the flap required to be taken hold of with one hand, while the other was made use of, and the pockets of his waistcoat were half way down to his knees.
My Father had worn a wig and pig-tail for a large portion of his life, but for many years he left them off and went without powder. My Uncle Bull, who died at the age of 80 in 1827, never made any change, at least not for the thirty years that I could be said to know him. He always wore powder, but it did not conceal the scorching of the hair which the curling-irons from constant use had occasioned neither did he ever discontinue his pig-tail. My Father had adopted long gaiters with his drab shorts as they were called and strings to his shoes but my uncle adhered to the last to his knee and shoe buckles, and also his grey silk or cotton stockings. His underwaistcoat was always scarlet, and, except when in mourning, his coat as usually worn at that period was blue, with plain yellow buttons. I must not omit to mention his never walking out without his gold-headed cane.
At that time the preparation of a lady's head for a ball was such a formidable affair that it required one or even two hours to accomplish it in the style of the period, and my Uncle Bull's hairdresser used to go to Lincoln, being a journey of nine hours, for no other purpose than dressing ladies for what was called the Stuff Ball, being a County gathering.
My own dress before I was married consisted generally of a blue coat and plain yellow buttons, pale buff kerseymere waistcoat (or scarlet in the winter) with tight blue pantaloons tied round the ancle, and Hessian boots with tassels in front. White cravats were then universal, worn with a stuffing inside, and among the fashionables it was no uncommon thing to wear not only one or two but so many that the chin was completely buried – in fact as diametrically opposite to the present fashion as could possibly be.
I have referred to the wretched state of the roads for carriages but have omitted to mention the extraordinary feats of horsemanship which were sometimes performed. The story of Turpin the highwayman riding to York in such an incredibly short time that he succeeded in obtaining an acquittal in a case of robbery near London is well known even to the present generation. A person named Cooper Thornhill who had kept the inn named the Bell at Stilton, was one of the celebrated equestrians. He was accustomed to set off in the night to Billingsgate, 75 miles from his home, and bring back fish next morning when any northern nobleman was expected to arrive at the Inn to dinner. I should here state that families seldom went to London more than once in the year at that time, and as the heavy travelling carriages of the day would always require four and sometimes six horses with outriders to attend them it was no uncommon thing for twenty horses to be ordered beforehand. I myself saw a horsedealer who was on his way from London to Stamford, a distance of ninety miles which he engaged to perform in five hours, but he arrived in considerably less time having as many horses as he pleased waiting on the road.
My father was at school at Stilton about 1764 when no fewer than 200 horses were kept at the Bell for coaching and posting, but principally the latter. An Uncle of his, Mr George Maxwell, whose widow died at the advanced age of nearly 100, when I was at school was imprudent enough to erect a large Inn at Norman Cross within a mile of Stilton for the purpose of reducing the price of posting from 9d to 7d per mile, but he had ample reason to repent his speculation as it brought him into pecuniary difficulties. It was within a quarter of a mile of this inn (which has now been converted into a private dwelling-house) that Barracks for French prisoners were erected, and several thousands were kept there during the whole of the war with Napoleon Buonaparte requiring always two regiments to guard them.
Peterborough was occasionally made head quarters for portions of these regiments, so that the citizens were frequently entertained with a band of music, and even two bands have been in the city at the same time. The Officers attended the balls held at the Angel in such numbers that upon one occasion I remember only officers standing up to dance with the ladies.
The ingenuity of the prisoners was remarkable. They began by making small toys in bone most likely what was produced from the Animals which were slaughtered for their use, but afterwards they carried on an extensive trade in Straw-plaiting for bonnets and List Shoes, until the jealousy of the English manufacturers of those articles became excited when their sale by the prisoners was only carried on clandestinely. I have in my house at the present time a Straw Box which is beautifully finished – the straw dyed of various colors measuring rather more than 9 inches by 7, and very nicely bevelled at the top – both inside and outside shewing most elaborate workmanship – which even now appears cheap at 20/- the price given for it. We have also a model of the Block House equally ingenious having figures of the soldiers in their sentry-boxes, pieces of cannon &c. This Block-house commanded a view of the whole of the prison and also served as a guard room for those on duty. We had a beautiful ship made of box-wood, with all the sails and rigging in the same material but it was too delicate to stand the test of more than half a century and therefore no longer fit for the drawing-room.
I should have mentioned that my grandfather remembered in 1745 the Duke of Cumberland travelling close by the spot in the first post chaise that was introduced, the Duke being then on his way to quell the Scotch Rebellion. The carriage had a door opening at the back, and I suppose was built upon four wheels. At that time or soon after the mail carts which were adopted merely had the bags dangling from the axle-tree made with a small opening at the top sufficiently large for anyone who met the driver to put in a letter. At Peterborough they only arrived three days in the week, so that when a commercial traveller visited the city, his first question was "Which is your post day?" These men of business were then always called Riders, and an Aunt of mine who lived to the age of 87 continued that term as their custom had been to travel on horseback, with saddlebags under them, and often in a company, to protect themselves from highwaymen and occasionally had an extra horse to carry the coin which they had collected in their journeys.
Peterborough was not a place even in my time, for people to make large fortunes but the railways have made a wonderful change in that respect, although it was one of the latest to receive the benefits of the new system. Now there are no fewer than four, uniting almost at one point – the North Western, Midland, Eastern Counties and Great Northern. I knew, however, one remarkable instance of a Carpenter who was only a journeyman, and at one time paying his addresses to a servant of my Uncle's. The engagement, however, did not end in marriage as he ultimately preferred one who possessed a few hundred pounds, and went into business on his own account.
It so happened that my Father was Churchwarden, Commissioner of the Pavement & Surveyor of the Highway – all very unprofitable offices, but they became highly beneficial to the individual alluded to as my father found in him not only a sober & industrious workman, but also a man of punctuality and despatch. I dined with him, many years afterwards, when at the solicitation of a wealthy clergyman he had become a Banker, on which occasion he gave my Father's health as a toast, remarking that my Father had set him going, and having done so, nothing could stop him. The foundation of his fortune was building very small houses which paid him very good interest, and in the course of time he had increased the number to a hundred. This attracted the notice of the Milton family, although the Elections at that period had not been contested for very many years, and Earl Fitzwilliam, Grandfather of the present Earl, gave all the price he demanded for them viz. 12,000£, as the greater portion of the tenants would be entitled to vote for Members of Parliament.
From that time his property rapidly increased to an amount exceeding 40,000£ and on the occasion of the Bank stopping as was the case with many others in the panic of 1825, his balance had nearly reached 50,000£. A Committee was formed to arrange the best mode of re-instating the Bank when notes were given to all the Depositors, with 5 per cent interest and the bank was re-opened - I believe about twelve months afterwards. The firm from the beginning was Simpson and White the former being Steward to Earl Fitzwilliam, but not possessed of one fifth of the property of the second partner and having no fewer than thirteen children.
I have not yet mentioned the introduction of Stage Coaches, which at that time were so great a novelty that the children of a school near to my Father's house, were always allowed to leave their lessons on the passing of the coach to shout at the top of their young voices to express their joy at the sight of such a wonderful machine. Even in modern times only one from London, and that a mail-coach passed through to Lincoln and Barton-water-side on the way to Hull, and a second to Boston. The speed was however most marvellously changed in my memory, as during my courtship in 1815, the rate of travelling was within six miles an hour but on the opening of the Railways it had been increased to ten or rather more, the journey from Lincoln, 52 miles, occupying 9 hours in the former period and 5 in the latter.
At that time, Whittlesea Mere as it was called, or in the opinion of some, more properly, White Sea Mere, within five miles of Peterboro' was very productive of Reeds for thatching houses or interior walls, and very large quantities were taken into Leicestershire by wagons bringing Cheese or other produce from that county. The lake also was an excellent place for certain descriptions of fish, especially Eels, which no doubt luxuriated in a large depth of mud.
The University men at Cambridge kept a pleasure boat on the water to enable them occasionally to have a day's fishing and parties often went from Peterborough with the same object. Now all that is changed the lake having been drained and converted into rich arable land, and the Great Northern Railway passes over the spot being a far more direct way to Huntingdon, than as formerly by Norman Cross and Stilton.
I am not aware that Peterborough can boast of being the birthplace of many eminent characters or that many celebrated men resided in the neighbourhood but in 1631 Dryden was born at Aldwinkle and at a house called Kate's Cabin, near the spot on the way to Oundle, the Dryden's Head still remains as the sign of a public house, in commemoration of his birthplace.
Northamptonshire cannot claim the birth of Sir Isaac Newton, although on the same line of road as Kate's Cabin, there is a board on a house by the roadside at Woolsthorpe in Lincolnshire stating that to be the building in which the celebrated astronomer was born in 1642.
The great Lord Burleigh also might be mentioned, as during the reign of Elizabeth the beautiful mansion called after his name was erected as the Queen observed by the taste of the Prime Minister and the purse of her Majesty. There are still to be seen in the collection of curiosities the diminutive china cups and saucers used at the Court at that period, together with various articles of dress and other relics.
Lord Burleigh was buried in a stone coffin, which still being perfect in the mausoleum at St Martin's Church, Stamford retains its full size and shape as originally deposited, but the coffins of his successors to the title and estate, are pressed down to half their original size by being placed upon each other; and most of the external wood coffins have disappeared altogether. Burleigh, with its park, is situated in what is called the Soke of Peterborough in the County of Northampton, and for many years, all trials, even for capital offences, were brought to the Sessions at Peterborough, and I have known executions take place for crimes committed upon the borders of Stamford. Happily, magistrates are now relieved of that responsibility and the gallows which were erected on Peterborough Common have disappeared, all such offences being transferred to Northampton Assizes.
I must not pass over the Exeter family without referring to the singular marriage of the Grandfather of the present Marquis which took place in 1793 or 1794. He had been previously united to a lady of rank, of whose history I am ignorant, except that she was divorced from him, and I presume left no family. This painful circumstance preyed so heavily on the feelings of the Marquis that he absented himself altogether from Burleigh and retired under an assumed name to a village within 20 miles of Birmingham. It is usually reported that he married a cottager, which was not strictly true, as she was the daughter of a small farmer named Thomas Hoggins with whom he lodged and was usually called "the London Gentleman" as he was known occasionally to visit the Metropolis. Report tells us that she was entirely ignorant of his rank until he brought her within sight of Burleigh and told her that that was to be her future residence.
The inhabitants of Stamford say that she never overcame the modest and diffident feelings which her sense of the superiority of those to whom she was introduced naturally excited. As may be supposed she was a fine handsome woman to have attracted the Marquis which, together with her excellent qualities and the innocent and simple life she had been leading, determined his choice. A large picture of herself and all her children was placed in the billiard-room at Burleigh 60 or 70 years ago where probably it may still remain. Her eldest son was born on July 1st 1795 which I well remember, as my own brother made his appearance in the world on the day after.
The house is peculiarly attractive for its paintings, to inspect which, when I used to visit the place, only six persons were allowed to be conducted at one time, by the housekeeper or an upper servant, but whether that restriction still continues in this railway age I am not aware. The hall and staircase especially were covered with paintings of the heathen gods and the chapel was filled with the most admired pictures from Scripture subjects. "The Death of Seneca" which is considered one of the most valuable paintings, was placed in a room occupied by the family, but when they were absent, visitors were permitted to have a sight of it. Perhaps the most celebrated of all the collection was "Our Saviour" by Carlo Dolci which was so extremely popular that Miss Linwood thought it worth devoting a room entirely to a copy of it in needlework at her Exhibition in Leicester Square. The most beautiful portraits pointed out were by Domenichino and Perugino.
Milton, the residence of Earl Fitzwilliam until the death of the late Earl, is within three miles of Peterborough and occasionally we rode round in our single-horse phaeton, commencing by the Stamford Road, and passing over a private bridge that was kept locked, we had the prettiest drive by the side of the river that the neighbourhood could afford. Our return home was by way of Alwalton and Orton the residence of the Earl of Aboyne. This pleasant drive cost us three toll-bars, therefore, although I occasionally went that way, I don't ever remember meeting any other private conveyances.
One singular, and I have no doubt, economical custom was to give a penny loaf to every beggar that called at the lodge gate, which was certainly more satisfactory than giving either money or beer.
I once heard a nobleman's Agent say that he had paid for his employer no less than 5000£ at one time for malt – to such an extent are noblemen's cellars exposed to what is nothing short of plunder.
For many generations the house and estate around it now worth 30,000£ a year belonged to the several Earls who occupied it, but it has lately been left to the second son the Hon. George Fitzwilliam. The family is so ancient that they are said to have come over with William the Conqueror. They were patronised by Cardinal Wolsey and there are still standing two trees near to the house under which the Cardinal dined when he was in such disgrace with the King that no one dared receive him into their dwellings.
I have proceeded so far without referring to my earliest recollections of my school days and in doing so, I must begin with an old nurse who made the effort of teaching me my letters, holding the book wrong way upwards for herself and pointing to each letter with a pin as I stood before her. This I suppose to have been when I was under three years of age, as on the completion of my third year or soon after, I was sent to a ladies' school. What progress I made there I am not able to state, but I remember that one of the accomplishments taught at that period, was filigree-work. I have some recollection of pulling off the shoe of one of the pupils, and was punished by being made to lie down upon my back with the shoe upon my face.
At five, I was removed to a boys' school, but I had no particular fondness for my new master. I remember while being carried on the back of an old servant that I used to stop him before he opened the door to enquire if I looked as if I had been crying. My Father was one of the feoffees of the Charity to which this school belonged, so that there is no doubt that I met with a little extra indulgence as amongst other tricks I was guilty of, was creeping under the desks and pricking the boys' legs with a quill pen I had picked up, which then afforded the only means of writing, steel ones being quite unknown. I have a full impression of a copy in which the date of 1799 was introduced shewing my age to have been then seven years.
The Master was a man without any religious principle as well as a very mean one. As an evidence of the former he never went to any place of worship, and of the latter, he had acquired a nickname among the boarders of "Dicky No Salt" as he thought that luxury too expensive for the boys to have at the table. During the wars of Napoleon Buonaparte the duty on every article of consumption was exceedingly high, but perhaps nothing had so heavy a tax as Salt, being no less than 30£ a ton or about 3 1/4d per pound.
On leaving Mr Richard Weston or "Dicky No Salt" I was removed to a school at Oundle belonging to the Grocers' Company in London conducted by the Rev. Thomas Henry Bullen, who was perhaps in some respects suited for the office, as he managed upon very moderate terms, to collect sixty or seventy boarders together. But he was a most intemperate man, not only from his inability to govern his passion but really, if truth be told he had a great fondness for wine. Boys will believe almost anything they hear and the impression was general throughout the school that he was able to swallow six bottles at one sitting. At all events he was often incapable of coming into the school before breakfast, and it was a common practice for one of the boys to sit in a certain bow-window built of stone, the room being very ancient, to watch one of the servants named Betty Crooks who on such occasions was sent to inform the chief usher that Mr Bullen was too unwell to attend.
The cane was very generally used in the school, indeed the ushers (of whom there were four) were allowed to use it but the birch was reserved for special occasions only. I remember once, when Mr Bullen was caning a boy who seemed terribly frightened at the punishment, he exclaimed "Oh pray Sir, don't because you are in a passion" to which he replied by an interrogation "Am I in a passion?" when the boy immediately answered "Oh no, Sir, you are not in a passion" the master then rejoined, with a sharper cut of the cane than ever "But I am in a passion".
Mr Bullen had married a person very inferior to himself in position, but she certainly was most indefatigable in the performance of her duties, one of which consisted in combing the boys' heads, in company with one of the servants, and she used to lay on the comb with such perseverance that the teeth very often made their way through the skin, so that combing-day was usually termed "ploughing-day". Those boys therefore who fell under the hands of Betty Crooks, thought themselves most fortunate, as she performed the operation with more tenderness.
The school and the house were separated from each other the former being at some distance. Indeed underneath the School was a hospital for old men with a matron to look after them. Our dinner always commenced with pudding and this was served out upon the plates before the bell rang, and consequently, in winter, when it was composed of suet, we generally found the slice sticking fast to the plate with a small piece of salt butter running like oil, by the side of it. Such being the case, Mr Bullen, who really had some liberality about him (for I remember his once boasting that he gave a penny a pound more for his meat than a neighbouring lord) desired that we might never have it again. His better half, however, disregarded the injunction and was guilty perhaps more than once of repeating it, which made him so angry that he declared that if she produced it again he would have it thrown out of the window. Our Ushers consisted of a sort of family party named Dix an Uncle and his two nephews the former being a powerful man more than six feet high.
Oundle had a very convenient river for bathing and occasionally, I believe more to save the trouble of feet-washing than anything else, we were taken down to the river, in one part of which those who were unable to swim might venture to bathe with safety but when the art had been acquired, they were allowed to go into deeper water, and the elder Mr Dix sometimes for fun's sake used to take hold of a boy with one hand at the wrist, and another at the ancle, and throw him several yards into deep water – a feat which seemed to gratify the swimmer as an evidence of his skill and courage. I remember a boy once coming behind me when I was swimming and seizing me by the neck, sent me down several feet under the water, and I believe I am right in the assumption that my eyes were open, and able to see the fish as they swam along.
We had no other playground than the churchyard which certainly was a very improper place, as boys are very fond of digging holes in the ground and burying articles of no value, such as handles of knives, peg-tops, and various things which were usually dug up again at a future period to gratify the curiosity of the digger, and occasionally if a boy wished to bury these articles very deeply, he would find that he had reached the coffin of a young child.
There were certain architectural ornaments upon the wall of the church, on the north side of the tower, joining which there was a large space covered with gravel where we played at a game called "fives". The balls were very small made of Indiarubber in the centre tightly bound round with worsted, and covered with white leather very neatly sewn. There were two stones fixed in the gravel, each about a foot square upon which the ball was struck: when bounding about a yard from the ground the player with his bat, sent it with all the force he could muster against the wall of the church. If he went below a certain line, his adversary took his place – at the same time his object was to go as low as he dare that his opponent might have more difficulty in picking up the ball with his bat when it rebounded on the gravel. The numbers generally consisted of two or three on each side, and the game was often played with very great skill, the bats being well executed in the workmanship and of first-rate quality in wood. The sexton became very skilful in making the balls I have alluded to, and when the game became popular he carried on a good trade with the boys at 6d each, and if they sent them to the top of the church, which was very often the case, he had a halfpenny each for bringing them down. The inhabitants of the town occasionally played at the game, and, as may be supposed exceeded the schoolboys in strength and skill, but they very seldom interfered with the occupation of the ground.
There were many walnut trees planted in the churchyard two of which, in the north west corner, a retired spot, served capitally for a swing, which was also a favorite pastime with the boys, and many became skilful either at swinging themselves standing upon the rope, or, putting one leg above the rope and the other under it, turning themselves over repeatedly while they were at full swing. I have known them also climb up to the top on one side and there, by twisting the rope round one foot and pressing the other against it could slide down as gradually as they pleased, or stop in the middle and leave go with both hands. I remember however a boy neglecting to secure the rope by his feet, and coming down with great velocity – his hands suffered most severely from the friction of the rope. There was considerable danger in boys jumping from one gravestone to another and sometimes in jumping over the tombstones. I was once attempting to go over one which was very easy on the one side but difficult on the other, as the slab at the top was far from being level. The attempt was not very prudent, as it proved in the result, as I caught my toe against the edge of the stone and my body went upon the ground with such violence that I began to think I should never get my breath again and I naturally abstained from making a second effort.
Of course it was a very great deficiency, not having any ground for playing at cricket, but we had trap and ball which is a very humble imitation, marbles and peg-tops. At one time sledges were the fashion which proved very destructive to the elbows of the boys' jackets, as it was thought good fun by those who dragged them along if they could upset the one who rode on the sledge. At the same time it was the pride of the boy who rode to keep fast hold of the pegs at the side, in order to re-instate the machine in its right position without falling off, so that he was often dragged along with his elbow on the ground.
Another evil from being in the churchyard, was criticism upon the inscriptions, being converted by the boys into what was called fun. One old woman living near the gate had upon the gravestone of her child "Not lost, but gone before" and the naughty and unfeeling boys used to call after her quoting her words, which they thought a good joke.
I don't think the boys were guilty of gross mischief very often but on one occasion when the ushers drank tea in the classroom, some one was wicked enough to put a candle into a tea-kettle which of course made what would be termed "a great row" in the school but I don't think the culprit was ever discovered. A more serious occurrence, however, took place from a boy attempting to raise the corner of one of the usher's desks which happened to be a very large one with a lock in the centre, in order that he might put his hand inside and draw out the cane. The wood however proved not to be sufficiently elastic, and consequently the lock was forced or broken open. Of course the usher reported such a daring outrage to Mr Bullen who gave out at the dinner table the indignation which it produced in his mind. Consequently the culprit ran away from the school. It so happened that Mr Bullen had been most hospitably entertained during the holidays at the house of his father and therefore, feeling the more on that account, immediately set off in a post chaise after him and had not proceeded more than six miles before he caught sight of the offender.
The boy, seeing the post chaise at his heels, jumped over the hedge but, his father being an extensive farmer, he no doubt felt quite at home amidst the corn or stubble or whatever it might be, and by the time Mr Bullen had descended from the chaise, and found his way through the gate, he had disappeared. The master, after searching in vain was obliged to call out that he would pardon him without any punishment if he would but make his appearance. This lenient proposal therefore was accepted and the young gentleman raised up his head from his hiding-place and was safely brought back in the post chaise – Mr Bullen at the same time desiring that no boy would speak a word to him upon the subject.
Our breakfast consisted alternately of bread and butter and seed cake with milk and water. The quantity of the cake consumed depended upon whether it was new or old, but when there was a battle to be fought and the boys were acquainted with what was intended, they were so eager to witness the scene that breakfast was very little regarded and scarcely two large cakes would be eaten. But when they were newer than usual and the boys had nothing to divert their thoughts from the enjoyment of them they would manage to get through six or seven instead of two, and on one occasion Mrs Bullen came into the room and gave us all a good round scolding for our greediness.
Once a great mistake was made by the servant, who drew the water to mix with the milk from the top of a boiler which probably contained pot-liquor. At all events the taste and flavor were such that it was utterly impossible to drink it and as we did not like to bring the complaint before the mistress we determined to pour it all down the spout which communicated with the water-pipes belonging to the old men's hospital below but whether they ever discovered the impurity in so large a body of water we never enquired.
We were very irregular in our walks, indeed according to my recollections, we scarcely ever took them except on Sunday evenings but I think we must have done so occasionally on other days, as I know it was a great treat to hear Mr Dix tell a story as we clustered round him at the river side, which he composed as he walked along with a pipe or cigar in his mouth – the smoking of which gave him time to recollect himself.
I have referred to the small breakfast which was taken when a battle was to be fought, but I have said nothing of the nature of such contests, and to what extent they were carried. I am sorry to say that the great boys were generally the authors and promoters of such as were pre-arranged. Upon two occasions however, they proved so severe and so bloody that in one instance when the contest took place in the schoolroom the ceiling, which was rather lofty, had the marks of blood upon its whitewash, and the pugilists had not an inch of their faces free from the effect of the long continued blows which were given. Mr Bullen had not thought it right altogether to prohibit the practice, fearing that the boys might get the character of cowards, but these bloody exhibitions which then took place brought matters to a crisis, so that fighting was altogether forbidden, and the Doctors Green as it was called (being opposite to Dr Walcot's house) once more rested from such scenes and the games of "bull-stag" "one-catch-all" became much more popular in the school.
It was customary to keep rabbits or birds occasionally that is, when they could find somebody in the town to take care of them, for we had no accommodation for such pets either at the school or house. I am afraid they were very irregularly attended to for on one occasion I remember rather a large bird being shut up in a cupboard before the holidays (a very improper place by the bye) and totally forgotten, so that on returning to school the skeleton of the bird was found lying on the shelf.
We had rather a singular custom on Sunday Evenings of taking off our best clothes and putting on others, which was no doubt convenient to the servants as it was their duty to put them away, but by no means agreeable to the pupils.
The washing arrangements were extremely limited being entirely confined to a cupboard in the dining-room with only three brass basins for sixty boys, so that the usher had to stand by and see that no one spent a second more than was absolutely necessary.
Dr Walcot was a very aged man with a butler, coachman and gardener far advanced in years so that his son who was of middle age managed everything himself. Occasionally he used to invite a number of boys to take tea at the house of his gardener, whose wife, Mrs Fairchild, supplied us with cakes gingerbread &c. For this entertainment he was charged 8d each and afterwards 9d. At that time bread was exceedingly dear, so that those who were fond of indulging their appetites could manage to swallow at least two two-penny loaves which were always buttered hot.
I believe it was in 1801 that wheat had risen to such a famine price that when one of the boys called out as usual "Bread if you please William" Mr Bullen immediately announced "No second piece of bread for anyone". It was soon after that period that peace was proclaimed when the boys had the pleasure of carrying the good tidings into the town, but as we were walking over one of the bridges, we met the old postman whom we well knew riding his pony at full speed with the word "Peace" in large letters upon his hat. The boys immediately turned round and beat the old man hollow in running home again shouting "Peace" all the way they went.
I have not said a word about nicknames, which were used very generally in the school, some of them opprobrious, the use of which might lead to a fight and others very harmless, to which the boys had no objection to respond. There were three brothers named Balderstone. One of them was asked what he had for dinner, and the answer was "Jam pudding". The nickname of "Jam" was from that time given to him and continued to be applied to his brothers also, added to the name of Balderstone as long as they were at the school.
It was not a general thing but occasionally a boy had a cake sent to him the disposal of which was not always satisfactory. One boy would be mean and gluttonous and decline giving to anyone, but keep it in his cupboard (of which we each had one) that he might indulge his appetite to the fullest extent and others would put it upon one of the desks and I have known the whole to be distributed and eaten in a quarter of an hour. The quality of these cakes too, varied exceedingly, I remember in one instance the parents desired the boy to get one made in the town, and as no limit was given to the price, the person receiving the order found it to his advantage to make it as rich as possible, while upon another occasion a boy received one so common and so thoroughly dry, that some of the boys who were not ceremonious, finding it not very palatable, went to the opposite end of the school and pelted their donor with it.
I cannot say that I often got into what is called a scrape but I once climbed an old walnut tree, when a large branch broke off and let me down to the ground. Indeed it was so large that I did not know how to get it removed except by chopping off the branches and for that purpose I went into the town and borrowed a hatchet. It so happened that Mr Bullen came into that part of the churchyard just at the time although it was unusual for him to be there at all and I immediately ran up to him and informed him that I was the unfortunate youth through whom the tree had broken. He then angrily asked where that hatchet came from. I told him "Mr Wickham's". The next question was "Who is Mr Wickham?" However I presume he felt it wrong to punish me as I had so readily acknowledged my fault so he contented himself with telling me to remove the bough and take back the hatchet as quickly as possible and there ended the matter as I heard no more of it.
On one occasion a number of boys were invited to drink tea with an old lady, who, not having any children of her own, seemed quite ignorant as to how they ought to be treated, and as her tables were very highly polished she seemed afraid that they would suffer some serious mischief and therefore proposed that we should all sit upon the carpet. Of course we were obedient to her wishes but we were packed so closely that we were scarcely seated before one boy knocked another's cup over, to the no small amusement of the rest of the party, however angry the old lady might feel at the accident. I must say that it served her quite right, and I trust it would be a hint for the future. Occasionally some of us drank tea with a tradesman who many years before had married my father's housekeeper and had prospered very well in his business. It happened that he had a grape vine or two about his premises, from which someone had taken the liberty to help themselves, and suspecting our boys he accused me as one of the party. I felt very indignant at the charge, being too young to do more than shed my tears which called forth the sympathy of some one present who immediately put a shilling into my hand. It did not however remove the soreness which I felt and I never forgot the injustice of the accuser, who had not the slightest ground for such a remark.
A small party of the boys myself being one of the number once drank tea with Mr and Mrs Bullen, when a microscope formed part of the amusement of the evening. It is rather a delicate subject to touch upon but a certain little insect beginning with the letter l, was sent for to a dame school that we might witness the extraordinary appearance of the circulation of the blood. Whether the old lady was offended or not I cannot tell, but as the application was successful, I presume not. It is not unlikely that a shilling might be sent with the message to prevent disappointment.
Among the games I mentioned I did not refer to a steel bow which some boy purchased in the town fixed to a gun stock which in fact was a most dangerous weapon. The string was made with great ingenuity and some expense and tightened by an iron lever which was sunk into the stock, and secured by a pin before the trigger was made use of. It was thought that an iron ball the size of a marble being placed at the point of the arrow would render it safe from any serious mischief, but such was not the case for even with that protection it would go through the bark of a walnut tree and bury itself so deeply that it could scarcely be pulled out again. Happily no boy was hit by it for I am quite sure it might have been fatal either in the head or body. As no mischief really occurred from its use it was gradually laid aside without Mr Bullen hearing of it and I believe never resumed.
I referred in a former part of my report to the suet puddings which were such an annoyance to the master but there was another vexation for the boys namely that no one was allowed to leave any fat on his plate. Now, as it sometimes happened that the meat was underdone as well as fat, it was a severe trial to a dainty stomach and I have known a boy pocket a great portion of his slice, as well as fat and put it into his handkerchief in such quantities that it ran through upon the stone floor which was always thinly covered with white sand and the whole was thrown away together including the handkerchief.
The punishments at Oundle School were very badly and unjustly regulated, in consequence of which the ushers were much more severe than the Master, especially in their tasks. The latter would occasionally order a boy to write a sheet of paper, which, being foolscap, would of course, if properly filled take up a considerable time but the ushers would more frequently set half a dozen sheets. Again the amount depended upon what they were to write the usual custom being to state the offence which had been committed as for example "I must not jump over the desks" or "I must get up when the bell rings". It often happened that a boy would get his companions to help him in writing these tasks, and it was thought to be done more expeditiously if one boy wrote the letter "I" from the top to the bottom of the sheet and another undertook to write the next word "must" in the same way, and so on to the end until the whole of the sheets were filled. This practice of course was discovered and in its place a boy was desired to fill his paper by copying from some book, which would take him twice as long if not more. Indeed these tasks were sometimes so long on hand that they were quite forgotten, and if the usher neglected to call for them they were probably never presented.
There was great injustice often in distributing the prizes, which I certainly experienced myself for, although I won the prize for ciphering, it was given to another. The fact was that the whole school commenced the contest, and two ushers were employed in the examination. After a time the numbers were diminished as they were found unequal to the competition and were gradually reduced until there were only two competitors another boy and myself, when I produced the correct answer to a difficult sum in which my antagonist failed.
The two ushers were Mr James Dix and Mr Bradley, who began the examination, but the last sum was given by the latter. It so happened however, that he was no favorite with Mr Bullen, and he did not even pay him the compliment of asking who had won the prize but made his application to Mr James Dix, who gave his answer according to his own impression when he left off examining, and Mr Bradley had neither the courage nor the sense of justice to interfere with the decision. Mr Bullen however, thought proper to give me a prize, a small globe, which he said was for my general good conduct, but I never valued it after being deprived of that which I was really entitled to and I gave it away after I had left the school to the son of Mr Belles, whose name I so often mentioned in my reminiscences of your dear Grandmamma.
In referring to the punishments I omitted to mention one flagrant impropriety. The classical usher, named Hinde, while a boy was repeating his lesson, if he found him defective, was accustomed to make him stand by his side and, taking hold of one of his ears, used to give it a pull for every mistake he made. This, I think, was always done in the absence of the master for I don't believe Mr Bullen would have allowed such a cruel mode of torturing a boy, as with all the master's gusts of passion, he had his periods of patience and forbearance, and I do not think that upon the whole he was disliked by the pupils.
I am not aware that many of our boys rose very high in rank or fortune, but we had one, Dorset Bringhurst, who went into the army, and had the honor, if it may be so called, of losing his life at the battle of Waterloo, being at the time Aide-de-camp to General Fane. I have only heard of two becoming Members of Parliament one, Mr Ellis, who was nephew to two ladies in a very humble position keeping the post office at Oundle, who afterwards became proprietor of one of those large establishments of drapery in London – the other, a David Pugh, who was born to fortune, his father having a very extensive trade as a wholesale and retail grocer in London which enabled him to purchase a considerable estate in Wales.
I have mentioned the elder Mr Dix as being a very tall and powerful man, with, as you may suppose, a proportionate appetite. On one occasion, having the opportunity of a holiday, he walked no less than twelve miles to breakfast with the parents of one of the pupils, and as the lady of the house was a great economist, the table was but scantily supplied for such an appetite as the walk had produced. It was believed in the school that he took the small loaf of bread intended for the party, and before he had satisfied the cravings of hunger, he despatched the whole of it. We may, however, suppose that there was more bread in the house, and that the family would not allow themselves to retire from the table with empty stomachs.
The boys were in the habit of purchasing nuts of a man who used to gather them in the neighbouring woods, and come to Oundle to dispose of them. He had the character of being a firstrate climber of trees, and in conversation with the boys on one occasion, he told them that he could climb up to the top of the steeple, and would do so if they could give him a certain amount of money, I think only 5/-. Now it happened that the church was erected with a very lofty one, having certain projections as ornaments by which he thought he could easily accomplish the task. But the boys while collecting the money began to be frightened at the engagement which had been made, apprehending no doubt that it would end in an inquest upon the man's lifeless body. The idea, therefore, was abandoned, but he proposed that he should climb to the top of one of the tallest walnut trees and there suspend himself by his legs with his head downwards, which feat he performed to the satisfaction of all present.
I have before remarked that the house was separated from the school, but as the original building was quite unequal to the number of boys, it was found necessary to enlarge it materially, and the erection took place only one or two years before I became a pupil. At the back of this building which consisted of three very long rooms, dining-room chamber and attic, with a study for the master, the names of the boys were engraved upon separate stones with Mr Bullen's in the centre. Perhaps not one of those whose names were thus handed down to posterity is now living.
I cannot produce many anecdotes from the town of Oundle, but I may mention one tradesman Mr Thomas Collier who married Miss Williams, daughter of the keeper of the Decoy mentioned in a former part of my reminiscences. From his youth he had proved anything but a man of business and it was thought desirable to promote his marriage, and in the lady selected for him he not only had a very pretty woman for a wife, but one who had been brought up with habits of industry and economy. The bridegroom, however, had no idea of either one or the other for he began by giving each of the ringers at Oundle a guinea and as much entertainment at the house as they liked to accept, in consequence of which they were ringing the whole of the week. I remember a party of us being at his house principally Peterborough boys where his family resided when we were left in the room with the wine, and, I believe dessert upon the table, and desired to take whatever we liked. As a specimen of the discretion or rather the reverse of such a party, one of them was asked whether he would take port or sherry, when he promptly answered that he would take a glass of each. I leave therefore my readers to judge what state we were in when we went back to school, although I can say with truth that none were so bad as to be reported to the master. The result of such a beginning may be easily conjectured, as it was very little more than a year before the business was given up, and the unfortunate man ended his days in a lunatic asylum not many years after.
There was one eccentric character living in Oundle who kept himself out of the workhouse by knife-grinding, who was said to be (and there is no reason to doubt the truth of it) a baronet by name Sir Robert Mackworth. The boys were very fond of going to his shop, where they had the amusement of seeing his daughter turn a large wheel by which his machine was worked – as well as witnessing the grinding of their knives. Sometimes they had a new blade put to their old hafts and the baronet used to remark that it was "a capital bit of stuff and would cut butter when it was hot".
Unfortunately his daughter did no credit to his high birth for she was discovered to have stolen a watch, which she stated had been given to her by "Lord Bowker" one of the pupils of the school. This must have been a cousin of mine as there was no other of the name, although her excuse was a mere invention, but I never heard whether she was prosecuted for the offence.
There was a singular story told about a Banker at Oundle who sold his horse at a fair which was rather celebrated, lasting some days and had French buyers as well as English – indeed I remember one of the former used to dress in a wig both powdered and curled according to the fashion of that day, about 70 years since. The banker, wishing to have a substitute before the fair was over, bought one which he thought very much resembled the one he had disposed of with the exception of its having a long tail instead of a short one. On reaching his stable, however, and being groomed and dressed in the usual manner, the tail actually came off, and to his great mortification, he discovered that he had bought his own horse again.
It was customary for Earl Fitzwilliam's hounds to throw off near Thrapston, when his lordship passed through Oundle with a coach and six to meet the hounds, being more than twenty miles from Milton. This was a great treat to the boys if they happened to see them, particularly those from Peterborough. On one occasion the hunt finished near to Barnwell Flour Mills, a mile or two from Oundle, when his lordship accepted the hospitality of the miller by partaking of some of his fried bacon, which was eaten with such a relish that it obtained the highest praise. The miller was so gratified by the compliment that he put a flitch of it into his lordship's carriage which I presume he would place under the seat and take care to have it well covered, but whether his lordship ever had any of it introduced upon his own table I never heard.
I must not omit to relate one clever feat of skill and strength amongst many others with which Mr Dix once entertained the boys. Two glasses of wine were placed upon two chairs about a yard distant and a very strong stick, about an inch thick or more, pointed at each end after the fashion of a cedar pencil was placed so as to rest upon the two glasses. The soundness and strength of the stick were exhibited beforehand to shew that no incision had been made into any part of it. Mr Dix then took a poker and struck it in the middle with such force as not only to break the stick, without spilling the wine, but also to break the poker itself.
In the early part of my schooldays, when the number of boys was increasing yearly, Mr Bullen used to give an entertainment on his birthday when we were taken into the country, the younger boys riding in a tilted wagon which carried the provisions. The amusements consisted of what would now be considered of a low description such as jumping in sacks, and grinning through horse-collars, compared to which, running races on foot, as well as some other amusements, are well deserving encouragement. The evening concluded with fireworks, and I remember hearing that they had cost no less than 7£ which then appeared to me a most enormous sum. This custom was discontinued as it was only carried out once during the six years I went to that school.
Before I close the anecdotes of my Oundle School days, I must relate one respecting the visit of an uncle of mine, when his son, my cousin who was at the school persuaded him to take us home in his gig. I am not sure whether two or three boys were of the party but we were desired to walk along the road and we should soon be overtaken. We naturally preferred riding to walking and when we had reached the toll-gate about half a mile from the town, we thought we had gone far enough. It then began to rain, which made us still less inclined to go forward especially as we expected the chaise to arrive every moment. How long we were kept waiting I don't know, but it appeared to us long indeed, and as the rain continued to fall more heavily, we were pretty well drenched before we had travelled many miles, and as the horse relaxed in his speed, we got out and walked in preference, so that to the best of my recollection, it was nearly midnight before we reached home, glad enough to get into our warm beds.
I have mentioned the high price of bread in 1801, but there was an equal scarcity in 1812 and 1816. At the former period a quartern loaf at Birmingham was 1/9 or about three times the price that it usually sells for at the present time.
A watchmaker named Greatbach living in Lower Temple Street told me a singular story of his purchasing a loaf for which he offered two shillings of King Charles's reign, soon after the silver had been exchanged by the Government for the new coin of George III. He said he was very hungry and was carrying away the loaf under his arm but the young woman in the shop refused the coin, saying that they took nothing but the new silver. Greatbach however, was not willing to give up possession, on which account she called her father from the inner room, and he attempted to seize upon the loaf, but he found he had his match in point of strength, and they both fell to the ground. This soon brought a crowd round the door and presently a runner made his appearance (for so the constables were called in those days, policemen being unknown) who took the baker on one side and told him that he must mind what he was about, for he had no right to refuse the coin of the realm although it might not be new advising him to give the man the change and let him go with his loaf which of course put an end to the quarrel.
I have one sad story to allude to connected with an Oundle family named Hunt, ancestors of the late Chancellor of [the] Exchequer but I am not able to report the degree of relationship. The tragical circumstances consisted in Mr Hunt and his bride being both murdered by banditti, while travelling in Italy. I cannot give the date or even the year when this sad event occurred but it was referred to at the time of the Chancellor's appointment and it was thought had some weight in the choice of the Minister.
I omitted one circumstance of my very early days, I suppose when I was four years of age, but I perfectly remember trying to teach my brother Robert to walk by placing him between two kitchen chairs that he might stand erect before I took hold of both his hands. As he was three years younger than myself, it is not matter of wonder that I should assume a great superiority in his early training.
I must now refer to another omission in my anecdotes of the Milton family. One of our boys, after leaving Oundle was sent to Eton, and on visiting his old school, was naturally asked many questions about that great establishment – among others, whether Lord Milton, who was there at that time under a tutor, was a good classic. The answer was "Oh Lord Milton can chatter Greek like a magpie." On some occasion or other, I forget what, when a meeting was held at an inn at Peterborough, Lord Fitzwilliam being in the chair and his son Lord Milton, not only grown up, but married, sitting near to him, I mentioned this anecdote, which appeared to amuse their lordships very much, particularly as I added that it was reported that his lordship was exceedingly skilful in the use of the hatchet in his plantations.
He enquired of me after the meeting was over, who were my informants but I did not think it right to give up my authority. Unfortunately, his lordship was too fond of the latter occupation, and not many years after that period he chopped his ancle most seriously, which occasioned his surgeon Dr Walker to attend him for a considerable time.
In my reminiscences of your dear Grandmamma, I gave a full account of the serious accident by which her leg was broken, but in the course of my life I have met with other similar incidents to which I may refer. I was once driving from Uppingham, about 22 miles from Peterborough, when meeting with a wagon on the crown of Duddington Bridge, about eight miles from the former place, my horse took fright and sent the shaft of the gig between the spokes of the hind wheel of the wagon, which split it from one end to the other. The person of whom the gig was hired, happened to be a wheelwright so that he could repair the shaft at a very small cost but sent in a very large bill for mending the harness, which was injured in a very slight degree if at all.
I once possessed a very fine horse, which we called "Captain". His fault was a habit of running away, and once when I was driving over Whittlesea Field, a farmer trotting at a very quick rate by the side of me, set him off into a full gallop, and with great difficulty before I reached the end of the field which in fact was as large as a common, he recommended me to drive him over the newly ploughed land, which I could easily do, as no fences were made use of in that open country. The result, however, was very unfortunate, for he had not gone very far, before both the traces broke, and Captain Johnson, for that was the gentleman's name, very kindly rode back to Whittlesea and sent a horsebreaker to me with a pair of traces to relieve me of my difficulty.
On another occasion this same horse, on my return from my Uncle Vergette's at Borough Fen in the dusk of the evening, took fright at a man carrying a bundle of hay on his back stuck on a fork, when off he set and had not gone more than a quarter of a mile when he went over a flock of sheep which were being driven to the London Market. The consequence was that the horse was not only thrown down upon his side, but the gig was actually turned bottom upwards – and I of course was thrown to a considerable distance with the cushions upon my back. I think I must have fallen upon one of the sheep, for although I was hurt in some degree in my face I escaped most marvellously from any fractured bone. Such an accident was reserved for another occasion, for being out with the hounds, which I seldom joined more than once in the year or scarcely that, I was riding a very fleet horse, and I think I held him rather too tight in the bridle. At all events his foot went into a deep grip in the grass along the hedge side, and over we went horse and rider in such a manner that one of his heels struck me accidentally on the collar-bone and fractured it so seriously that the deformity may be felt to this day. I suffered much more pain from the treatment than from the fracture, as Dr Walker then my surgeon, adopted the principle of what was called the figure of eight bandage, which galled me so severely under the arms that it became sometimes intolerable.
I have now said quite enough of my accidents and consequent suffering, and therefore will change the subject to the history and adventures of my watch which is still in my possession and has been so for exactly sixty years. When I was nineteen years of age I used often to look in the windows in London, and long for a gold watch, but I was advised to get one through a friend who perfectly understood the quality of watches and he procured one for me for 20 guineas which my Father, perhaps too goodnaturedly, allowed me to give. In those days the expense was not confined to the watch only but there was also required a gold chain, a large gold seal for letters and another for notes, to which I added one which took my fancy very much containing a compass so that the whole cost, I dare say, not much less than 30 guineas. On one occasion I had to go to Boston in Lincolnshire when to my great surprise my watch was brought to me by a commercial traveller, but I cannot remember whether I had missed it before it made its appearance. At all events I had carelessly left it in some room in the inn.
At another time I was guilty of the same want of caution, and the waiter at the George at Northampton became the temporary possessor of it. In that case I had gone away by the coach, and making the discovery on the road, I gave up my fare, and seated myself in a carrier's cart then on its way which took me back and enabled me to discover that it had fallen into honest hands. I cannot say how many times I have dropped it, but certainly several times in the course of my life, and on two or three occasions I have left it under my pillow when the maids, quite unaware of its being there, have tossed it off the bed and it has gone quite under the fender at the opposite side of the room. Lately it has been out of order but the watchmaker recommended a new verge to it, as the old one he said, was nearly worn out and it keeps time now, as well as when I first bought it.
Its safety for the last forty years I attribute to the chain and seals being all discarded and its being secured in my waistcoat pocket by a black cord sufficiently strong to make a good fastening to my brace, and also sufficiently obscure as not to attract the notice of those lightfingered gentry who are always on the lookout for such tempting property.
This appears the proper place to introduce another piece of forgetfulness of which I was guilty. When I was travelling in my own phaeton in Norfolk, I left my reading glasses in the bed-room and had reached another town about eight miles off before I made the discovery of the loss. When I had ordered dinner (for my dear wife was my companion) I enquired who would be the best person to return in the hope of obtaining them, when they recommended me to a female who they said was the most expeditious walker in the place. She undertook the commission for half a crown and I had the satisfaction of retiring to bed with my property restored to my possession.
I was not so fortunate during the early years of my residence in Birmingham, as I lost two pairs of gold spectacles one at the Post Office and the other at my own Bankers. It is quite consistent for people to become more careful as they grow older, and although I could add a few more losses in spectacles of inferior value in travelling, canvassing for the Institution for the Blind, I think during the last twenty years I have taken such especial care that I can report no loss.
One vexation I have ever escaped namely, having my pocket picked of my purse. I think my dear wife had hers intruded upon at least three times – once at Liverpool by the side of the docks, another time in an omnibus in London when her pocket was cut through, the gold taken and the silver left behind, another time at the opening of a church. My daughter and daughter-in-law each had their pockets picked attending a crowded church, and a lady friend of mine whose name I have no right to mention lost 23£ in an omnibus. But I will finish my pocket-picking anecdotes with one upon a large scale. Mr Hill, who was Architect to the Gaol, received 500£ on account of his designs for that building, when he gave it to Mrs Hill to put in the Bank. Unfortunately she went to the Market Hall on her way and was robbed of the whole amount. I believe no part was ever recovered, otherwise the public would soon have been informed of such an agreeable result as the thief being detected.
Happily the fashion of practical jokes has been of late much discontinued, compared to what it was fifty, or I may say a hundred years since. My father used to relate an anecdote of a baronet, Sir Jonathan Cope, who then resided at a house at Orton near Peterboro' which afterwards belonged to the family of Earl Aboyne, that he took the trouble and put himself to the expense of having machinery made which could draw up a bed and its occupant to the top of the room – so you may imagine a visitor's surprise and perhaps alarm at finding his position in the morning on awaking. It would have quite spoiled the joke if the baronet had made any provision for his descent – especially as the bell would most likely be beyond his reach, but it is to be hoped that the unfortunate visitor would be able to descend and dress himself before the breakfast was ready.
This same baronet at that period which must be nearly a century ago, used to give masquerades at his house (which are now seldom heard of in England) and a cousin of my Father's, Dr Cleaver, who was six feet two inches high, prepared himself in the character of a baby and had a dress provided, suitable to a child of a year old. At that time he was visiting at a house near to us the residence of a Mr Parker who was a man of very large landed property, and as the company came from the hall to enter their carriages, a number of people were collected, when Dr Cleaver asked some of them if they knew him to which they replied in the affirmative. He then remarked "Then you know an old fool". What age the Dr was I cannot tell, but possibly he might be only a student at Cambridge, as I am quite unwilling to believe that he could have taken a doctor's degree at that time.
But I must return to the subject of practical joking. I remember a lady with whose family Mr Bullen was intimate, dressing herself as a servant and applying to Mrs Bullen to make an engagement in that capacity. Of course a great many questions were asked and perhaps as many falsehoods told in reply before the decision was arrived at, but I quite understood that Mrs B. was very much displeased at the trick which had been played upon her.
One of the Miss Blyths of Uppingham was very fond of such deception going once to the house of a man of fortune under the disguise of an old woman in spectacles and selling to the butler some cream-cheeses, which she warranted were the first quality being her own making. On one occasion she replied to an advertisement for a wife and couched her letter in such terms that the man went to the post-office at Uppingham to ascertain if possible, who was the writer. It so happened that the daughter of the postmaster had lived as servant in her father's family, but, although she well knew the writing she was discreet enough to withhold the information. Had that been obtained by him, I have no doubt she would have found that she had placed herself in a very disagreeable position as he would probably have either called upon or written to her.
A cousin of mine too, was a little inclined to such tricks and on one occasion when visiting in the country, she disguised herself as well as she could as a beggar and called at the front door of the very house at which she was then staying. The master was not particularly mild and gentle in his manner and as she was very persevering in her new character of a beggar he told her if she did not go about her business, he would horsewhip her. I cannot say that I think either party would feel very comfortable after this interview.
I have been pausing for some time for want of material to proceed with my dictation but it occurs to me that I may introduce my sister Catherine whose illness has been a remarkable one. She came as an inmate to our house on 6th August 1848 and on the 14th February 1855 was attacked with Paralysis which has now confined her to the house no less than sixteen and a half years. We naturally expected a second attack which is too often the case, and I believe she had one in a very slight degree as from that second period she has never been able to use her hands for any kind of work, but has always managed, by having a lead weight for the book which she is reading to turn over the leaves and to be independent of assistance. Gradually she has become less inclined to read herself, and is more fond of having books read to her by her companion whoever it may be, as she is never left without someone to add to her cheerfulness. Her spirits therefore have never been depressed during the whole of this long period, but the effort to amuse her becomes greater to those sitting with her. Her general health has been remarkably good, not having required medical attendance for the last five years, although she has lately passed her eighty-first birthday.
I must now mention a singular circumstance which occurred in the earliest part of her illness. Her nurse who was her attendant both by night and day and consequently sleeping in the same room, awoke with an impression that her patient wanted her assistance, and walked across the room to ascertain the fact but found her mistress fast asleep. It so happened that one or more thieves had found their way into the house owing to the window of a small room on the ground floor being defective in its fastenings. They had collected together several great-coats and other clothing which were kept in the room and scattered a variety of articles about to ascertain what was worth carrying off – but the sound of the nurse's footsteps in the chamber above at once alarmed them, and the candle which had been stuck between two large packets of envelopes was immediately extinguished and they escaped with only a few silk handkerchiefs as their booty.
I cannot now undertake to make any additions to my reminiscences in order of date but should like to add whatever I think may interest my grandchildren either in local history or anecdote whether derived from Peterborough, Birmingham or elsewhere. The latter place affords many striking instances of persons acquiring very large fortunes from the smallest beginnings by persevering industry and economy, especially if blessed with long life and strong constitutions. I have heard your dear Grandmamma say that her father and mother could remember when the great Boulton, as he was afterwards with justice called had not a shilling to spare at the end of the week. But by his own ingenuity and ability, coupled with those of James Watt, his partner, rose to world-wide celebrity and great affluence. The copper coin manufactured by him was so heavy that penny pieces were often used for ounce weights – that being the standard when new, and the word "Soho" the name of the manufactory of Boulton and Watt, was plainly visible on the coin. Indeed their fame as coiners of copper became so great that they were not only employed by our own Government but by many others in various parts of the world. Boulton was one of the first who produced an extensive illumination by gas at his manufactory, which when your dear Grandmamma was quite a little girl, her father took her to witness, among the thousands and perhaps tens of thousands of spectators who were there present. The family have now reached the third generation, the manufactory is entirely removed, and Soho Park has become the residence of a large number of Birmingham inhabitants chiefly of those who have retired with ample fortunes.
At the present period both Mr Josiah Mason and Mr Joseph Gillott the great pen manufacturer who are still living began life as workmen. Mr Mason has lately presented the Corporation of Birmingham Buildings at Erdington, where he resides, which are valued with the endowment at not less than 300,000£ and as the entire amount of the latter was most carefully invested in freehold property, it is expected that in course of time, its value will be very greatly increased. The Institution is erected for two purposes namely an Orphanage for the young and an Asylum for the Aged, and after the decease of Mr Mason, the nominations will be entirely in the hands of the Corporation of Birmingham, subject to such restrictions as have been made under the deed of Settlement.
The amount of Mr Gillott's property is doubtless very large, as it is now many years since he purchased an estate for 95,000£, and he is still constantly adding to his investments. His pictures have been valued at 30,000£, and as he is considered an excellent judge in making his purchases, his collection will no doubt be highly attractive. His case is not like that of Mr Mason who has no family, but it is very questionable whether it would not have been very much happier for his sons if industry and economy had been more necessary to them.
I must mention one more instance in Birmingham that of Mr Thomas Crowley who died about a year since leaving no children. Before his death he made donations which with his bequests amounted to at least 30,000£. He originally began as a packingbox maker upon a small scale, and afterwards became a timber merchant by which he realized his fortune. Ten thousand pounds was I understand given not long before his death to enable his trustees to erect an Orphan Asylum making sufficient provision in his will for its endowment, to which he added legacies from 500£ to 1000£ to various Charities.
It would be easy to mention cases where the prospect of large fortunes tends to the most injurious and ruinous habits. A professional man many years since in Birmingham left an only son largely provided for, who married a person much his inferior in position of life. He left his native place to reside in the Isle of Man where he undertook for a wager to eat a large quantity of eggs at one meal, which caused his death, and as the law of the Island differed from that of England, the widow was obliged to have recourse to litigation, ending in a compromise allowing her 500£ a year only a fractional part of the income her husband would have been entitled to.
I can mention another instance which was reported to me at Buxton originating in rather a singular manner. A Mr Rylands when a young man, accidentally went into the shop of a draper where there was a sale going on, and at the close of the auction purchased a drawerful of what appeared to be little better than rubbish buttons, tapes &c for 2/6. On reaching home with his purchase he consulted his laundress as to what was best to be done with them, when she bought part of the bargain herself, and recommended him when he had disposed of the remainder, to purchase warp, which she undertook that her son should convert into cloth. This advice he followed, and when he had sold the produce, purchased more warp, and continued similar transactions until he obtained capital sufficient to employ not only one son but also the husband and a second son. His father was quite unacquainted with the business, but being possessed of some property, he joined his son John and they soon became manufacturers upon a larger scale. I am not able to go through the various steps which he made in after years as a merchant, manufacturer and coal proprietor, but suffice it to say that he has now become one of the millionaires of Manchester. My informant is the father of his principal Cashier, who also told me that he is a most devout man and is at the present time engaged in all his leisure hours in writing on theological subjects having already published a valuable work.
The painful part of the story has yet to be told. Mr Rylands' family consisted of only two sons one of whom was quite a man of business, but died after a long illness to the great grief of his father, especially as the other son was entirely a man of pleasure. He married, however, and has a family and is at the present time residing in the Isle of Man. Whether the grandchildren will be able to take up what their father is not disposed to attend to, time only can tell, but as it has been the work of Mr John Rylands' life to raise such a structure and become such a prominent man in Manchester, it will be a matter of much regret if his name should be forgotten in the commercial world.
Note:
The model blockhouse is still in the family's possession.