James Cyril Dalmahoy Allan
A Memoir by D.F.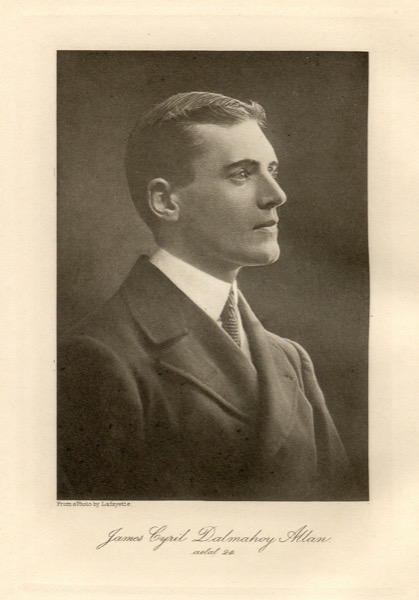 Contents
Foreward
Chapter 1: Edinburgh
Chapter 2: Christmas Island
Chapter 3: China
Chapter 4: France
Chapter 5: The East Again
Hong Kong Recollections: Branksome Towers
An Ordinary Day
Chapter 6: The Last Chapter

Foreward
The name calls up a flood of memories; memories grave and gay, following one another as the waves on the seashore; memories of his attainments, his light-heartedness, of his courage, constancy, and kindness; memories, also, of something less tangible, but as real, of his power to throw a glamour over all he did, and to convert the simplest, most ordinary project into a great adventure.
The news of his death, in Hong-Kong, came with a startling suddenness to his friends, all unaware as they were of the illness which had overtaken him, and the feeling is now widespread amongst them that the spirit of his remarkable personality should not go down to death unrecorded. They, his friends, can never forget him, but they want him to be something more than a legendary figure of happy memory, especially to their children, to whom he was the wonderful Chinese Uncle appearing at long intervals, laden with gifts, and expending himself for their enjoyment. If, thanks to this short memoir, he becomes to these children, even in a measure, the inspiration and delight he was to their parents, this little book will then have served its end.
I am well aware how inadequate I am to perform this task, but the exigencies of work and business debar others more fitted from the undertaking, and it seems better that the attempt be made than that it should be left undone. I would therefore ask his friends to forgive all shortcomings, and to extend to me the clemency which he himself would have shown.
He was many things to many people, even in his name: 'Cyril' to his large family connection; but to those whose friendship dated from his student days he was known as 'Jimmie.' Each group was quite unfamiliar with the other name, and as a compromise he is referred to as 'Allan' in this memoir.
Many of the letters from which this memoir has been taken are those of a very young man. Insufficient in a sense they may be, for he seldom did himself justice, yet to the discerning they reveal the writer and create the atmosphere which makes for reality. An attempt has been made by welding them together to give some sort of full-length portrait of him – no simple matter in the case of a man whose experience of life was broken up into distinct divisions – separate compartments, so to speak – and no one friend travelled with him all the way.
His nature was one of sharp contrasts, and therein lay much of his attraction: the gayest at any revel, yet choosing for himself periods in the wilderness; erratic, yet possessed of dogged, serious perseverance; luxurious to the point of extravagance; but light-hearted in the roughest circumstance; critical but catholic in his sympathies; ambitious, capable, effective, but humble in regard to his own attainments. Many who knew him were unaware of his real worth, his exuberance of spirit and almost baffling levity hiding from them his infinite capacity for taking pains, and his truest aims. It was not his good fortune to make discovery, or to add to the sum total of medical knowledge, but if the art of healing be the physician's main achievement, then he was a great doctor. Those under whom he worked, the students of his day, and above all, those who looked to him in their need for comfort and advice, held him a man of exceptional ability and power. From innumerable sources have come proofs of what he stood for in the lives of others.
The writing of this memoir has been, in a sense, a voyage of discovery. Even we, who knew him best, scarcely realised what manner of man he was until he left us.
D. F.
---
Chapter 1
Edinburgh
James Cyril Dalmahoy Allan was born on February 13, 1882, at Ootacamund, India, and was the second of the three sons of Alexander Allan, who owned large tea and coffee estates in the Neilgherry Hills.
Alexander Allan came of the family of Allans of the Glen in Peeblesshire, which now belongs to Lord Glenconner, and his forebears also owned 'Hillside House,' which lay in the then open country between Edinburgh and Leith. In the early years of the nineteenth century, his grandfather, inspired with a wish to build something in the new town of Edinburgh which should rival the Charlotte Square of the brothers Adam, demolished the old house, and built Hillside Crescent upon the site. No. 4 eventually passed to Mr. Alexander Allan, and this fine old house remained the family home until 1926.
Mrs. Allan was the daughter of Patrick Dalmahoy, Writer to the Signet, who inherited from his uncle, General Carfrae, the property of Bour-houses in East Lothian. She was one of a large family. Her elder brother, Major-General Dalmahoy, served during the Indian Mutiny, and died only recently, full of years and honour. Mrs. Allan was a woman of rare charm, and was gifted with a beautiful voice. Surely it must have been his mother who passed on to her son his way of winning hearts, for wherever she went she left a trail of happy memories.
After the birth of the youngest child, Mrs. Allan became very ill, and she and her little sons were sent home. She reached England, but died shortly afterwards in London. The three motherless boys went to Hillside Crescent, and were brought up by their aunt, Miss Allan.
In 1892 Allan went to the Edinburgh Academy, leaving it in 1895 to go to Rugby, where he remained until 1900. Shortly before going there he had a severe attack of rheumatic fever which affected his heart for life, and it was owing to the care and kindness of his uncle, Sir Thomas Barlow, that he recovered sufficiently to stand public school life at all. His schoolfellows remember him as a fragile boy, popular with the 'sixth' and the older boys of his house (Mr. Donkin's), but debarred from all games, and they had difficulty in recognising him a few years later – a man well over six feet in height, broad in proportion, and the very embodiment of energy and riotous spirits.
His school life had given evidence of no particular ability, and the state of his heart precluded his entering any of the Services, so what to do with him on leaving Rugby was a considerable problem to his elders. Allan solved it himself by his decision to become a doctor, a decision which, on the face of it, seemed well-nigh fantastic, as the boy had hitherto shown no great aptitude for study or power of concentration, the absence of which two qualities leaves but little chance of success in the arduous profession of medicine. No one guessed that one so gay and irresponsible possessed brilliant ability and the will to plod through the stiffest work. Almost immediately on leaving school, however, he seemed to step into another sphere of health, capacity, and purpose.
He worked hard at Edinburgh University, and there was not a hitch in his career as a student. In spite of work, he had time to spare for much besides, and was a prominent member of both the Royal Medical and Dialectic Societies. He inaugurated midnight fishing parties to Gladhouse, in the Moorfoots, holding a special place in the hearty of 'Mother' MacGlashan, the forester's wife, who mothered generations of happy fishermen in her little cottage by the reservoir. Exhausted friends might sleep along the bank, but Allan could fish all night, ride into town on his bicycle, and be fresh and ready for his classes in the morning.
His coterie included Shepheard-Walwyn, Jack Cox, Stewart Orwin, Reggie Fothergill, Noel Forsyth, George Gibson, Sam Walker, and Chad Woodward, but the leader of every enterprise, the centre of every assemblage, was Allan himself, with his ardent, active spirit, attracting a host of comrades by the spell of his personality, and retaining them by his generous goodwill.
A conscientious but rapid worker himself, he had time to spare in which he could help his slower brethren; more than one friend was guided by him well into the watches of the night through the intricacies of anatomy and kindred subjects. Edinburgh is a good place to be young in, and Allan never missed a ball or entertainment if he could help it, and he had an unusual capacity for doing amazingly long hours of work and play with comparatively little sleep.
In 1905 he passed his final examination, and then went to the Forsyths, at Quinish in Mull, where he spent a long and perfect holiday, fishing and sailing; all was in tune, country, weather, companionship, high spirits. He felt himself ready for anything, even to giving on one occasion an impromptu and vividly imaginative address on the cave of Fingal to a party of tourists who had mistaken him for a guide! This holiday ended, as it were, the first chapter of his life.
His career as a doctor opened happily, as he had the distinction of being appointed House Physician at the Royal Infirmary, Edinburgh, assisting Dr. George Gibson, the well-known consultant. His admiration for his chief made the work seem light, an admiration which was reciprocated by the keen appreciation of the older man for his young colleague.
In spite of the fact that the medical profession was now begun in earnest for Allan, it only seemed to stimulate his natural zest and high spirits. Every experience was grist to his imaginative mill. For fires and auctions he had a special penchant. At one auction sale he had a narrow escape. He had 'popped in,' as was his wont, to Dowell's Rooms, when a sale of some importance was in progress. Two dealers and the auctioneer were engaged on a certain picture, and the price was rising steadily, five pounds at a time. Automatically the auctioneer leant towards one dealer and then the other; automatically Allan found himself swaying in unison. Steadily the price rose: 'Fifty-five on the bid,' then a swing on to sixty, then to eighty-five – on it must go forever. So when the stoutest dealer shook his head, and the auctioneer suddenly ceased swaying and Allan with him, the shock was so great that he heard himself shout 'Ninety.' The auctioneer steadily fixed him with his bright eye, while one of his creatures came pushing towards him with pencil and paper. Not a moment was to be lost. Grasping his hat and stick, he broke through the crowded hall and never stopped running till he reached Hillside Crescent!
His period at the Royal Infirmary passed all too quickly. The Residents at the Infirmary form a 'Mess,' and friendships made there are lasting. But never did Mess pull better together or remain so closely knit as the Mess of summer 1906. 'One figure in this band,' so writes a member of it, 'stood out among the others not because of his ability alone, but because of his whole personality. That man was Jimmie Allan. None there were who met him who did not feel drawn to him. As the days of closer companionship followed, that feeling quickened and deepened until eventually he had grappled the whole of his fellow-residents to himself with bonds of affection and esteem, which neither time nor distance, nor even his early death, can ever efface. The chosen leader in light-hearted exploits, he was also the leader in matters of serious import, for deep down in Allan was implanted the call of Medicine, with all that it implies of human understanding and human sympathy for souls and bodies in distress. The call of Medicine was insistent, and that the urgency of the call was borne in upon him in the wards of the R.I.E. is not, I think, to be denied. May succeeding generations of Residents have such another as Allan to inspire them as had we, his fellow-members, in our time and generation.'
Allan aimed at having as varied an experience in his profession as was possible, and when his time in Edinburgh came to an end, was anxious to serve under Mr. Hogarth Pringle, of Glasgow. He had no appointment with, or introduction to, the great surgeon, but simply appeared to see him one day unexpectedly, and in a few minutes the matter was settled. (Allan was always hard to refuse.) He began work at once as House Surgeon in Glasgow Royal Infirmary, finding it very much to his liking, and, what was more to the point, Mr. Pringle also found the arrangement entirely satisfactory. He discovered in Allan a first-class assistant, keen to learn, hard-working, and always giving his best to whatever he took in hand. When at a later date Mr. Pringle learned that he had decided to go to Christmas Island, he tried to dissuade him, confident that he could make his mark in this country.
Dr. Gerard Fitzwilliams was also House Surgeon at Glasgow Royal Infirmary at the same time as Allan, and it was 'when they faced the rush and turmoil of the Glasgow Royal Infirmary together,' as Allan afterwards wrote, that they became such firm friends, a friendship which led, some years later, to their partnership in Hong-Kong.
As usual, he spent the holidays in the Highlands, at Longtown, and at Gladhouse. Speyside had perhaps the dearest place in his heart, and often in after years, stifling in his office in Hong-Kong, with typhoon signals up, overpowered with work and worry, his thoughts turned to the beloved Highlands.
Late in 1907 he joined Dr. Noel Forsyth, who had been in practice at Malton in Yorkshire for just over a year. Together they had studied and played, and now together they were to work with equal success. These days, only twenty years ago, of no telephones and no motor cars, when the long rounds over the wold were made in a tremendously high dog-cart, seem almost as remote as the era of sedan chairs! Hard work indeed, but there was no little compensation in the usually peaceful evenings, lying beside a great log fire, sleepy and comfortable, while Allan entertained with his marvellous yarns. Exaggeration, when exaggeration did not matter, was one of his foibles.
His natural clinical sense told at once in the practice, and his genius for making friends helped him here as always. Willingly would his friend have had him remain with him, but to Allan, with his appetite for work, the scope was not big enough for two. Besides this, a wandering spirit had laid its hold on him, the fate of those born in the East, on whom it seems to cast its spell and draw them back again. There was possibly yet another reason – he knew his life was unlikely to be a long one; twenty years seemed the utmost to which he could look forward. Never did this knowledge appear to affect his outlook, but it may have made him wish to drink as fully as he could of the cup of life while yet he had time.
Wiser counsel prescribed more study and research for him, but this again meant dependence upon his father. By chance at this time he had the offer of the post of Medical Officer on Christmas Island, which meant the charge of twelve hundred Chinese coolies and of the small white population in the employment of the Christmas Island Phosphate Company. This offer he accepted, and on June 4, 1908, he sailed for that remote spot, than which it would be difficult to find one more solitary.
---
Chapter 2
Christmas Island
Christmas Island lies about three hundred miles south of Singapore, and is part of the Straits Settlements. There were times when he felt the isolation keenly, but, as was his way, he made the utmost of it, and found the work more interesting than he had been led to believe by his predecessor. Both in medicine and surgery he found plenty to do. Very few men of his age – he was only twenty-five – would have cared to face such absolute responsibility, and light-hearted as Allan was, he yet took his work with deadly seriousness. Beri-beri, which had been rife, became, largely owing to his care and treatment, practically extinct. This was almost a disappointment, if one may say so, as he particularly wished to study the subject with a view to his M.D. thesis. He read enormously, and achieved the whole of the Waverley Novels, Montaigne's Essays, Plutarch, Epictetus, everything about Napoleon upon which he could lay hands, much medical reading, histories of India and Burma, and a vast amount of fiction. He also planned and superintended the making of new tennis courts, dispensary, and many other improvements, and joined heartily in all the sports the island provided: cricket, tennis, billiards, swimming, and even 'soccer' with the 'Mandores,' the Chinese foremen.
His letters will give the best idea of his life upon the island, the first of which was written almost immediately on arrival:
Christmas Island,
July 1908
'When I last wrote I was just getting into Singapore. I was sorry to leave the Marmora – she was a very steady boat and we had a cheery time on board, and an excellent four at Bridge! It was almost twilight when we dropped anchor, and a steam launch came off from Boustead's with a very decent chap called Blair on board … I learned from him that I would have to proceed early next morning to Christmas Island on board the Islander, the Company's boat . . . We dined at "Raffles' Hotel" and then visited the Malay theatre. Hamlet was being played in Malay! Shades of Forbes-Robertson! He and others who have their own way of portraying Hamlet would have got some new ideas—the Ghost was most realistic, and the band played "Knocked 'em in the Old Kent Road." . . .
'I started the next morning. For the first two days it was most pleasant; we crossed the Equator with a fine breeze facing us, steaming under a perfect blue sky and what looked like eternal sunshine, into a sea dotted all over with a myriad of islands, small and very pretty, some quite brick red and bare in the sun, others green and wooded, varied in shape and colour in a wonderful way. At night, hour after hour, the sheet lightning flashed out.
'On the second day we put in at a small native village in Java – out shot the sampans with their almost naked crews, each with a wide-brimmed hat on. I can see all the colouring now: the green of the palms, the dense tropical vegetation behind, the streak of glaring white sand, the green of the sea merging into deep blue, and the small boats with their crews shining like figures of bronze.
'They put on board six and a half dozen very wee birdies they call chickens, some ducks, and two miserable sheep – all for the island, being its fresh meat supply. We left them, and after rounding Java Head came misery, and the "not-once-but-again-and-again" wish for death; the boat had no cargo and rolled and pitched to a nicety! No wonder after thirty-two hours of it I was glad when Christmas Island was reached.
'About Christmas Island I am not going to say much yet; there have been many disappointments as well as pleasant surprises, and now that one is here it is as well to make up one's mind to accept the former and get full value out of the latter. After all, the will to have a good time, and get the best out of one's environment wherever one may be, is very much a question of the personal equation. . . .
'I learn that the Islander does not by any means run once a fortnight; it all depends upon the phosphate. Occasionally on getting here she can't land and has to go back to Singapore, because there is no harbour here, and only in one spot is there a small bay, but no shelter.'
Christmas Island,
July 20, 1908
'Last time I promised to let you know something about the island … It is extremely pretty, and were it thirty miles from London, what a rush there would be to see it! The shape is rather like a flattened-out tiger-skin. There is a bay on the north coast, and around it half a dozen European houses. This is called "Flying Fish Cove," and is the most sheltered spot. . . . There is a garden round my house which I am going to try and make very beautiful, and then a road and a row of coconut palms – all that divide the houses from the sea.
'Behind the houses the ground rises steeply to about eight hundred feet, the ground being covered with dense tropical vegetation, and at the top of the hill, about a thousand feet up, are the phosphate of lime quarries, of a clean bluish-white stone. Out east from the European part come the office buildings, the mandores' quarters, the coolie lines, and lastly, about three-quarters of a mile away, the hospital and dispensary. At the top of the hill there are more coolie lines and a small hospital, and at the far side is a fresh-water spring, from which the water is pumped and gravitates down to this side. The rest of the island is jungle, very dense in parts – some of it has not even been explored!
'I shan't close this yet, but will stop because the mosquitoes are making merry at my expense – my hands are swollen and one eye closed up; but it soon goes down! We are lucky not to have any malaria-carrying mosquitoes here.
'I have started to teach myself to swim, a useful art I never managed to acquire, because at home I usually developed palpitations and cramp after about one minute's effort.
'It is 6 P.M. now, and as I sit here on the veranda writing, I am looking due west. For about ten minutes there is a glorious sunset, the row of palms shines like bronze, while the background of heaven-touching ocean is brilliant like a blazing ball of fire which quickly dips below the mystic line, and then there follows such a magnificent colour effect in which sky and sea join – purple, orange, and gold. In what seems a moment of time the vision (for so it afterwards feels like) is over, the twilight is as brief, the crickets start to sing, and darkness ends another halcyon day in this island of dreams.'
Here follows his account of a day's routine:
'After breakfast, up to the Hill Hospital on pony (two and a half miles), with possibly a game of tennis there, for my new court is now finished, and very excellent it is too! Back to tiffin at 11.30, which consists of chicken or duck (either whole or made into a Chinese "chop"), cheese and fruit, and, as a drink, the most delicious lime-squash made from limes growing behind the house. After tiffin comes the period of rest – I have not yet started a siesta, but read or write or go up to the Magistrate's to play him at chess. He is one of those who can do the blindfold touch, and is far better than I am, but so far with luck we stand four all. Tea is at 3.30, and is just a biscuit and a cup of China tea. I am growing mustard and cress for this meal!
'After tea, to Hospital, and do any operations that require to be done, see more coolie outpatients with various injuries received up at the quarry. I have been fairly busy doing small things this last week: several tonsils to remove, one finger and two toes, also varicose veins, and yesterday I did a Syme's operation. Then follows some cricket or tennis, and another bathe, twenty minutes' dumb-bells, and so to dinner at 7 o'clock. After dinner we stop at home and read or else visit and perhaps have some music, or go down to the Club and play billiards, poker or bridge – so the time passes, and one is quite ready for bed at 10.30 P.M.
'Since we came we have had three vessels in, not counting the Islander for cargo, which always livens things up a bit. I have to go on board when she comes into port, and inspect the crew in my "special capacity." . . .
'On the 12th [August] I had to let off a gun for "auld lang syne," so went up to the hill and shot some pigeons; they usually sit on a branch and refuse to move, but on the 12th they rose to the occasion, were flying about everywhere, and I got some sporting shots! On the 14th I started at 6 A.M. and rode out to the farthest point of the island. It is twelve miles long, but as the path zigzags a good deal the ride was a thirty-mile one. One goes through the jungle all the way, so does not get any view at all; the path is awfully rough mostly, and full of roots and crab-holes, but occasionally there is opportunity for a good gallop. On reaching my destination I had, for tiffin, a curry with the Chinese woodcutters, which wasn't half bad – or else I was very hungry!
'I have been a little busier lately, and one day had a major operation, which I think is going to turn out all right, but it was done under such awful conditions! The Eurasian dresser absolutely beat the band as regards giving the chloroform! I was surprised on dressing the case to-day to find that it was healing by first intention.
'Sir John Murray and his daughter arrived by the last boat.'
Christmas Island,
September 21, 1908
'… Sir John and Miss Murray are off to Batavia to-morrow. I went with him once on one of his several trips round the island on the Islander, and he named one of the points "Allan's Point," so there lives for all time one memorial should I die to-morrow!
The voyage round the island was grand! The coast-line is very stern and rugged – high cliffs all round with an occasional lagoon or bay, or beach. Above the cliffs the dense jungle starts immediately, and rises rapidly to eight hundred feet. There are lots of holes and caves all round, and the great waves go rushing in, causing a deep booming sound … In some cases the end of the cave opens by a blow-hole above ground, and then each time the wave rushes in there is a great column of spray thrown twenty feet in the air . . .
Nobody knows who called it Christmas Island, or why. The original name was "Moni," given to it by a Dutchman, but until about twelve years ago the island lay unclaimed by any nation, and was supposed to be in the Dutch sphere of influence. Eventually Great Britain annexed it, and it is now one of the Straits Settlements . . .
'As regards more recent news, my garden is fair. The sunflowers and nasturtiums are out now, but the sweet peas are poor. The tomatoes and lettuces are doing well . . .'
Christmas Island,
October 18, 1908
'This is Sunday. I have just had a letter from an aunt, asking the particular denomination of the Church here. I fear I shall have some trouble in answering the question. There is the Joss House, with its awful grinning gods and its ever present sensation of a "yellow peril" in the background, where doubtless one might pour one's sins into the sympathetic ear of a Confucius; and then again, there is the Hindoo temple where the Sikhs worship – the low and prolonged trumpeting of their horn is even now calling all true believers to worship, and the Sikhs in their wonderful Sunday turbans and loose shirts are going past the veranda as I write, with their pots of beaten brass – and with them I daresay one might not seek in vain the Comforter. Yet in spite of all this atmosphere of abounding grace, there is none I should care to advance as evidence of godly piety to a Calvinistic aunt . . .
'To return to terra firma, THEY have arrived!
'I am sure you are anxious to know who THEY are. I shall enlighten you – THEY are crabs. Each year, for one month, all the thousands of land-crabs visit the seashore for breeding purposes, and it is an extraordinary sight! The males come first, evidently seeking out the way, and later the females follow. Every path is covered by these beasts, with their black shells and red legs and pincers. They come for miles and march steadily on; hundreds perish during the exodus; each time the tram comes down it runs over any number of them; they are so thick they are piled up one on top of another, and on the seashore they are sometimes six deep. I know it sounds like a fairy tale and is hard to believe unless actually seen. I must try and get some photos. At night, if one is awake in bed, one can hear the steady rattle of their armour in the silence all around. They are no respecters of persons, these crabs, but come marching through the house, and cling all over the bath in the morning. They can climb trees and verandas and all sorts of things, and are of all sizes – some quite small and very neat, others are large – all rather repulsive. "Bunda" attacked one, but got his nose caught and set up the most piteous howling! When I caught him he had torn off the claw, but the pincers were still fiercely gripping his olfactory organ. He is daily becoming more lovable and is a splendid house dog, but he is doggy enough to return in triumph with some particularly nauseous treasure . . .'
Christmas Island,
December 27, 1908
'We have had a perfect scorcher of a Christmas Day! One perspired at every pore, and wished one had twice as many to perspire from – really a parody on a good old-fashioned day. Of course, one did not in the least realise that it was Christmas! . . . Since then, the rain has been extraordinary – simply comes roaring down, and one can't make one's voice heard at all. Now it has stopped for a space and I shall go down for a swim, because after the rain the mosquitoes have come out in their thousands . . .
'What do you think we found in the jungle? A coolie who had been lost for six years! He was fat and well, having lived all the time in a beautiful cave; his bed, upon which he slept much, was of soft feathers, and for food, arrowroot, pigeons, and fish served his needs. He has practically never seen a living soul during all that time, and has forgotten how to speak Chinese—just remembers "yes" and "no." As to the reason for the exile, he ran away for some trivial offence after having been on the island two months, thinking he would never be forgiven and just die out there. I have him in hospital, but he is really quite fit – quite a weird sort of hermit! He is glad to be back again, and smiles amiably when I percuss his chest.'
Christmas Island,
March 6, 1909
'To-day is very hot. The others are having their afternoon siesta, a habit I have not yet acquired, and all is very quiet – the air almost tingles with the heat! "Fuzzy" and "Bunda" have sought the shelter of the bathroom, where they lie behind the great earthenware jars which hold the bath-water; even the butterflies have ceased their aerial flirtation and have taken cover behind the papiya blossom; the only sound is the rattle of the phosphate away in the distance as it pours into the overhead bucket; or the thud of a ripe cocoanut falling to the ground.
'My latest pet is a house lizard that lives under the cruet on the table, and at dinner, if one puts down a crumb, or if a fly drops from the lamp, it darts out like a streak of lightning and captures its food, then retires as precipitately to its shelter in the centre. It comes back every night at dinner-time.
I have had a little more to do lately in the way of active work and acute cases – I wonder if "talking shop" will bore you, but it is all part of "the dreary intercourse of daily life," as Dr. John Brown says. I had a man with a fractured skull in, upon which I operated and removed the fragments – so far satisfactory; a case of varicose veins upon which I also operated; another badly smashed up hand from a dynamite explosion, and an empyema; also an acute pneumonia, and two bad beri-beris, so that things have been more interesting.
'At last I have got a two-roomed house, which I have re-roofed and made into a laboratory and museum, and it looks fine with its rows of stains and an incubator going strong in the corner. . . .
'David, the Magistrate, has been on the warpath; two more robberies to investigate, mutiny among the Sikhs, and a case of attempted poisoning of the whole Malay contingent by means of Jeyes' fluid in the tea – not a very brilliant conception and quite unworthy of a would-be Madeleine Smith!
'One night I went round to a Chinese "sing song" amongst the mandores; one played a concertina, another a violin, while the Chinese fiddle and tom-tom were much in evidence. They sang Malay songs with their elusive cadencies, and danced weird dances, and were amusing. I feared to act as a damper on the subsequent gambling, and so left.
'A sad thing happened to-day. Five coolies were sitting on a ledge of rock fishing, when a wave came up behind them and carried them all in. Two who could swim managed to scramble out, but three have been drowned. I am so sorry; they were such decent fellows. There is a boat out now looking for the bodies. I suppose if the sharks don't get them it will mean an inquest.'
Christmas Island,
July 6, 1909
'. . . This very evening I was childishly pleased over a small event. One hundred coolies, whose time is up, are going back to Singapore and China, and the Krani came and told me they wanted to give me a present before they left. I thought it was splendid of them – every one says they are so callous and indifferent, and many of them are not! I absolutely refused to let them do anything of the kind. Good heavens! The poor chaps have hardly got any money at all. But it was the idea of it that meant so much, so we parted with much wagging of pigtails, and a promise to meet in China, and if not there, in the fields of Paradise where there will be ever so much rice to eat, salt fish galore, no work, and lots and lots of red crackers going all day long; and almond-eyed ladies to sit and fan you; plenty of gambling tables at which one only loses when one has a small amount on, and wins when the betting is high. All that seemed to be their idea of a good time! As a matter of fact, they will all be horribly ill on the way to Singapore, and then lose the little money they have got gambling on arrival there – they simply can't help playing – so having lost their all, they will not get back to China, but will go to a depot and re-sell themselves for a certain period of time, and be sent to Java or Sumatra, poor little yellow men!
'We are still having wet weather! The meteorological report shows this to be the wettest year in the short history of the island. I do wish it would set fair. So far I have managed to keep down the cases of beri-beri, more through luck than anything else.
'Post-tiffinic. The cook has secured a crayfish, which "he makee allee one piecee chop-chop." I wonder if that would convey anything to your excellent Harriet! In any case, the effort was quite "bon" and must be repeated. As I write, a coolie has arrived with a tin of freshwater crabs. They are good eating! He has brought them seven miles from the other side of the island and refuses to take any money. I am overwhelmed with his generosity, and the only way I can repay him is to give him a day off when he next comes and says he is tired; then maybe he'll go and get some more – happy thought, he shall have a day off once a week!
'. . . The head Chinaman contractor has arrived this time to pay a three weeks' visit to the island. He is the absolute limit, and I think the fattest man I have ever seen, in or out of a show. He has the "fat boy of Peckham" beaten both ways from the ace. His short stature accentuates the awful monstrosity of his circumference. He is quite unable to walk more than fifty yards, and has always to sit on two chairs. He seems supremely happy, all unconscious of the fact that one day he will probably burst. I have no idea of the skin's stretching capacity, but the limit must be reached some time. As a large waist measurement conveys to the celestial mind the idea of enormous brain development (much savvey), he is looked upon with positive awe by the coolies. He really is a clever fellow, and is worth pots of money, with which he is most generous. As a matter of fact, he has offered to increase my salary by five hundred pounds if I stay, but the moth, rust, and mental decay have weighed down the other side of the balance, and I go. Nevertheless I appreciate the offer and the temptation was there.
'. . . Have done some good operations lately, and the results have come up to my most sanguine hopes, healing occurring by first intention in every case. I have made a few notes on a fever epidemic we have just got through, which I think will have some clinical interest, and shall send them up to the Journal of Tropical Diseases for publication.
'. . . We have had fine weather now for a week, but the end of the rain was absolutely record-breaking! 15 inches fell for two days in one continuous crash, lash, and splash. . . .'
Christmas Island,
July 31, 1909
'. . . The other night the diver (a Malay) who was very fond of the bottle, so to speak, went to fish off the end of the pier, and during a gust of wind he fell over, unbeknown to any one, and was drowned. I think he must have fallen flat on his face and had the wind driven out of him, because even when "off the map" he could swim like a fish. His wife sat all day – after the manner of the true Oriental – howling in a tearless fashion, and beating her breast; then she announced she would join him, and midst the loudest shouts, walked into the sea up to the neck, turned, and came out again. Her chief complaint was that he had been fishing a long time and had caught nothing.
'The next day, with the true versatility and laxity of the Malay woman, she was arranging which of the other Malays would be her husband, and came to the conclusion that her adopted brother, who is my syce, would be the best. There was a fight between him and the boatman! She leaves for Singapore this trip, and then there will be no more Malay women on the island.'
Allan's friends will recognise the next two letters as specially characteristic of him. Mention has already been made of the contrasts in his nature, but none was more striking than his meticulous care for others and his heedlessness – callousness, one might almost say – where he himself was concerned.
Christmas Island,
August 18, 1909
' Here I am, out at Hospital – 3 A.M. to be precise. I am sitting up all night looking after a case of typhoid. Poor chap, I am sorry for him, he is having a rough time! This is the sixteenth day, and I am wildly keen to pull him through, but alas, it is skilled nursing that is required. The reason I am here is simply that I could not trust any one. I gave the Eurasian dresser full directions at 8 P.M., and went home to help the District Officer sort the mails, the Islander having just arrived. I came back at 11 P.M. and found he had fallen asleep and forgotten to do anything. Inwardly I cursed him, but outwardly said that apparently the only way to get satisfaction was to remain and see to it one's self. He seemed delighted at the idea of an undisturbed night in bed … so here am I, with the patient asleep, writing away at the end of the big ward. At the other end are some coolies asleep on their wooden beds and still harder wooden pillows beneath their necks, and not one of them is snoring! Outside the night is dark and very starry, and as mild as a June day at home.'
Christmas Island,
October 31, 1909
'. . . The sun is 90° in the shade, and anything you like on the road! A suitable therm-antidote would be more than good, but for the present I have forsworn all tobacco and alcohol, being unable to play tennis or billiards, or to swim. I got a septic wound on the hand and it was apparently healed, when the glands in the armpit became like the proverbial pigeon's egg, and the temperature rose by leaps and bounds to 104°, while amongst the grey matter inside one's head castanets kept time to the devil's clog-dance. I thought of you and put on anti-phlogostine! During the night grinning gods and disease in monstrous forms visited me in the snatches of sleep, the last one of whom turned out to be the hairy head of a Sikh, who salaamed and seemed much excited. When at last I realised he was in corpore, and I was on terra firma, I mildly suggested he might choke himself as my temperature was still 103°, and then I grasped that a coolie had died with dramatic suddenness during the night, and that I had somehow to struggle on to a pony and go out and do a post-mortem!
'When I got back I went to bed and awoke better, but almost sure that the case was one of fulminating cholera. I could recollect little about the post-mortem, but I knew I had made some slides (cholera, by the way, was raging at Batavia and the Islander had touched there, at Anjer, and was not put into quarantine, so I have had cholera on the brain). However, the slides had been removed and cleaned by a coolie full of excessive zeal – the man I told you about, who was in the jungle so long – and so I was at a loss and started to disinfect everything, and take weird precautions. Nothing more has happened, so it must have been unnecessary – nevertheless, it was good practice!
'I am quite fit again, but I can't do anything with the arm yet.'
Towards the end of 1909 he began to feel that it was time he made a move; that one and a half years on a small island was long enough for his soul's good. He wrote on November 25:
Christmas Island,
November 25, 1909
'With luck you should get one more letter from the island of dreams. As I look back, I rather shudder to think of the time I have wasted; my thesis is as airy and unformed as the mystic rat floating in the air. However, I was pleased to see in the last number of the Journal of Tropical Medicine an article I wrote on "Dengue" or three-day fever. . . .
'On Saturday night, the poker game was disturbed by the arrival of a Malay with a mighty cut on his head, and I had to take him out to Hospital. He had been set upon by a gang of Chinamen, while fishing. Alas, the man that dealt the blow was my own coolie, and I had to go up and give evidence before the District Officer. The prisoner and three compatriots each got three months' hard labour, so now my coolie passes my house on his way to work, clad in prison weeds, and when I meet him he hides his face in his hands. I did not think there was so much shame in him!
'The present Corporal of the Sikhs leaves by this boat, and as I have entertained him once or twice, he is coming to say "good-bye" with full honours. I am apprehensive . . . three is the hour of the ordeal. Dressed in all his "glad rags," with his fellows, he will present me with a bouquet and then offer me a bottle of gin and of whisky. I shall accept the flowers, stand them all drinks, and then they will proceed to fall on me with sprays of the cheapest of cheap scent, and spray me, head, feet, and body. I have been through it before – do you wonder I flinch?
His last letter of the period is dated December 13, 1909, just before his departure from the island. His own words convey a faint idea of the affection with which he was regarded by the coolies, to whom Fate had sent him to minister.
'I must tell you about yesterday, in spite of appearing egotistical. I wouldn't if I didn't know that you will like to hear about it.
'At 4 P.M. a great mass of coolies and mandores arrived, the head "Towkie" as interpreter. Their approach was heralded by a continuous roar of Chinese crackers and beating of drums. They all gathered round the house, swarmed over the veranda, and a perfect fusillade of crackers followed. When silence reigned again, the head man read an address, and then presented me with a gold medal from the Chinese of the island, along with the most gorgeous banner imaginable; bottles of whisky and beer, etc. Then they all shouted and roared, and when the hubbub was over, I made a speech through the interpreter . . .
'No one need speak of Chinese ingratitude to me ever again. I think they are splendid little men, and I do wish I could do something in return. It was all so absolutely spontaneous on their part!'
On January 17, 1910, he sailed from Christmas Island, and so ended his first term in that distant part.
---
Chapter 3
China
On leaving the island, Allan went first to Singapore, where he was entertained by friends new and old, and thence to Malacca as the guest of Alfred Burn Murdoch, Conservator of Forests, who tried hard to persuade him to settle either at Kuala Lumpur or Malacca. Both these places, through a rise in rubber, were awakening from the age-long sleep into which they had fallen since the picturesque days of the Portuguese domination. Wherever he went and whatever he did, his friends tried to detain him, which was his best excuse for being rather a poor timekeeper.
From Kuala Lumpur he went on to Penang, Rangoon, up the river to Mandalay, and on to Shan Hills, a remote and lovely little spot, including in its attractions the necessity for fires, the possibility of a cold bath, and the sight of roses growing. It takes a spell in the tropics to make one appreciate what these things mean.
His letters show the quick eye for the unusual, the observant delight in the beautiful, and above all, the merry heart of a youth who has escaped from exile. But space does not allow of their inclusion in this short memoir.
He found it hard to leave Burma, and envied a family of grey long-tailed monkeys which came crashing through the branches in this 'Paradise of nuts and fruit and beauty away from the worries of life,' and he wondered 'if man having discarded his tail has scored so much after all.' Allan might have dallied even longer, but fortunately there was much to entice him on.
In April 1910 he arrived at Coonoor to stay with his father. Britain pays a heavy price for Empire in the separations between parents and children which her distant dominions demand. Authority and dependence, two binding links in home life, become unsoldered by long absence, and re-unions are seldom painless pleasures. Many years had passed since Allan and his father had met, and the son was now a man and not a boy, but dissimilar as they were in almost every respect, they were at once on easy terms, each being well endowed with tolerance. To the end of his very long life, Mr. Allan had a strong hold on the affection of his three sons, and they had a deep respect for his simple goodness.
Three months slipped away as a day at Coonoor, but during all this season the future was troubling him somewhat. Shortly after joining his father he had broken to him that he did not intend to return to this country. His father suggested that he should seek advice from wise counsel in London, but this was the last thing that Allan wished to do. Counsel would say 'Go home,' without weighing up 'the joy and fascination of the East, and how it gets hold and grips one's heart.' Two months later he had come to no decision, and on June 26, 1910, he writes:
'Still here, a vacuous idler, picnicking and dancing without a single serious thought, yet knowing, with all the fatalistic superstition of a Buddhist at his wheel, that the pendulum of compensation must swing remorselessly the other way. Still, I hesitate to give it the necessary flick, which an inherent spasm warns me I shall undoubtedly do, the day I leave here.'
The 'necessary flick' came a few days later from his friend of Glasgow days, Dr. Gerard Fitzwilliams, who was already in practice in Hong-Kong, and who now wrote offering him a partnership. The offer was accepted, and Allan left Coonoor early in July.
But his holiday was not yet ended! He first visited Ceylon, combining two pleasures: a meeting with his old friend Dr. Cox, and some trout fishing in a river which reminded him of Perthshire. From Colombo he sailed to Singapore, just touching there before going on to Dr. Weber, the Medical Officer to the Sultan of Johore, and from there he went to Java. Finally he paid a brief visit to Christmas Island, returning to Singapore, where he embarked for Hong-Kong. On the voyage thither he writes:
'It will be good to get to Hong-Kong – it is such ages since I heard from any one! I expect to have a thin time at first, but hope eventually that things will pan out all right. I am looking forward to this new move with a certain amount of apprehension, but it will be good to get back to work once more – I only hope there will be lots of it. I've been just horribly slack lately, but it has been a glorious holiday, and something infinitely good to look back upon.
'I crossed from Singapore by Dutch Mail to Batavia, and so up to Buitenzorg, where there is the most beautiful botanical garden in the world, just a wealth of tropical flowers and foliage. Java, I imagine, is as near to the Garden of Eden as any place I've yet struck. I eventually went to Anjer, and caught the dear old Islander. Thirty hours later I was back again on Christmas Island. Of course I visited all the old haunts. My dear old friends, the coolies, came down the last night and gave me a tremendous send-off with fireworks and crackers, quite of their own accord, and I had to shake hands with all of them. They are just dear little men, and I never want to have nicer people to deal with. I got my books and instruments together, and left for Singapore with, I confess, the devil of a lump in my throat.
'This is an old boat, chiefly cargo, but a good seaworthy one. She is full of dynamite from stem to stern, so we don't sneeze!'
Dr. Fitzwilliams, when Allan joined him, was living in a flat on the Peak, and this they shared for some months. Allan was now to experience for the first time how competitive life is, and, like most young doctors starting in new surroundings, he was concerned with the want of work, or rather of remunerative work, for he found plenty to do at the Chinese Hospital, where he was always welcomed by the Staff. Very soon, however, he began to make headway with the practice.
Possibly the key to his power to interest and arrest people was his own unflagging interest in everything, including himself. It was alien to him to be negative or indifferent or apart from his surroundings. No sooner did he find himself in new circumstances than he began to put out feelers, light tentacles, which in time became grappling-irons, and within a week or two of his arrival at Hong-Kong he was immersed in his new life.
Pleasure in possessions and the joy of collecting awoke in him at this period, and he commenced to accumulate Korean brasses and ivories, and very soon his flat was filled with china, books, and pictures, to say nothing of his 'menagerie.' Children were a speciality of his. He seemed almost to cast a spell over them. If he sat down in a room where they were, in three minutes they were all on top of him. To them he was the magic man who could turn out a tale whenever one was wanted, and who allowed them to do things tabooed by other elders.
'He is the most sensible grown-up I've ever known,' a little cousin said of him! When he had time for nothing else he managed to write long letters to small adorers in almost every part of the globe. It is pleasant to remember that he had the same attraction for Chinese children, and in the houses of his Oriental patients there were many who called him 'Ah Shunk' (Uncle). Next to children, animals were his best playmates; first and foremost, his dogs, but grateful patients, knowing his tastes, used to bring him every kind of pet, till the flat overflowed and he had to pass them on. At his house a visitor never knew what strange creature might appear; a large white rabbit would pop out from under the sofa, or his favourite monkey that lived on the veranda. He possessed a famous Siamese cat, besides birds and dogs galore, all of which were carefully looked after and apparently harmonised.
But while to the casual acquaintance he might seem the light-hearted care-free trifler, the other Allan, the serious, plodding, ambitious man, was working hard and studying. Within a day or two of his arrival he began to learn Chinese, and was to become one of the few foreigners who could make an excellent after-dinner speech in that language. Then when he first arrived at Hong-Kong he was deep in his M.D. thesis, and was very soon appointed Lecturer in Practical Pathology in the School of Medicine.
The following excerpts from his letters give some idea of the various claims upon his time and energy:
31 Queen's Road Central, Hong-Kong,
September 11, 1910
'Things here are much as usual, and we are still having plenty of mist. Fitz's office is down in Hong-Kong, but we live fifteen hundred feet up on the Peak, and to get here we come up in a weird tramway, pulled by a cable up a gradient like the side of a house. The house is a very little one, and from the veranda one looks down hundreds of feet on to Hong-Kong lying below. The view is really lovely, and the bay perfectly beautiful. At night when all the lamps are lighted, it looks like fairyland. We have been quite busy altering the arrangements of the drawing-room, to meet the eye of both of us, and I think the result is a success.
'I haven't summed up the pros and cons of the place yet, but as far as Hong-Kong itself is concerned, I like it, and have met some very jolly people. There won't be much work for me at first, but time will not hang, because they are short-handed at the Government Civil Hospital, and I spend all my mornings there, seeing tropical diseases, doing X-ray work, and giving chloroform. Last week I did a couple of decent operations, all of which helps to keep one au fait. Then I must settle down to a thesis of sorts, and am going to learn Chinese.'
September 24, 1910
'Three elements are struggling to disturb the even flow of this epistolary effort: first, the wind is sweeping from the north and rattling the windows in their sockets; second, the dearest of chow puppies is dragging at my lace; third, I made this morning an abortive effort to commence my thesis, and the effort has caused profound depression.
'After this preliminary outburst, I was called away, and now return to the attack. The wind has increased in violence and typhoon signals are up to say that one is within three hundred miles, and so the house is all barricaded up, with bars across the windows, and padding against the glass.
… I wonder if I have anything to tell you. The American China Fleet is in the bay, and I dined on board their flagship New York last night. I had met most of her officers at Singapore, and so had quite a good time, and four of them are dining with me to-night. Amongst other things, they keep a cinematograph on board, and rolls and rolls of films, and they work it on deck, and all the bluejackets sit down and look on. It was working last night, and behind me I heard an ominous groan. I looked round, to see the shade of Nelson in torment. I murmured, "Rest, perturbed spirit, this is not Britannia's Navy."'
October 12, 1910
'To-day is memorable! I had my first lesson in Chinese. It is an appalling language, and makes me feel violently ill. I am sure I cannot master it, but I do want to do so, ever so much, and see vast ages stretching before me trying the tones as they fall from the lips of the "Wisest Man on Earth" as I have nicknamed my teacher, and he certainly looks it.'
October 16, 1910
'. . . The awful language, of Chinese, it is appalling, and at present one's head swims with sheer inability to make five tones out of "ng," all different. My teacher speaks no English, but beams at me over his glasses in a most celestial manner and grunts with approbation.'
October 31, 1910
'Fitz is reading Vittoria, and all is quiet. I have fifty Chinese characters to learn for to-morrow, so this must be limited. Boonda, my chow, is replete, and a fine breeze blows from the nor'-east. The weather just now is too glorious for words, I have never felt anything like it, and the colouring all round is a thing to dream about. So far, I would not change Hong-Kong in winter for any other place I've ever struck – even dear "Auld Reekie"!'
Considering all he was attempting, it is not surprising that his heart began to bother him during the winter (1911-1912), but he managed to get away on a shooting trip up the West River, in January, which soon put him right. As was his way, every moment of his day was filled, and in March he wrote:
'I make no excuse as to the poverty-stricken state of my letters, but every moment I have is taken up with my thesis, as it is going to be the devil of a job to get it finished and bound and sent home by April 30. … Things here are much as usual. I have added to the burden of life by being appointed Lecturer in Practical Pathology to the College of Medicine here. It is just about as much as I can manage, for I have to go to the different mortuaries and get specimens and mount them myself, which entails endless time.'
And again, a little later:
'I sent my thesis off last Tuesday, and was glad to see the last of it' [this thesis, by the way, gained some distinction] and now I must weigh in with my Chinese, also the preparation for my Pathology takes up a good deal of time. This has been a strenuous week. I go down by the 8.30 tram in the morning, and have not caught anything earlier than the 7.50 P.M. up again. The German influence here and in Canton and all up the coast grows stronger every year. The place is riddled with her spies, and all the premier firms are joined in one vast co-operation to push German trade and oust Britain. The more one talks to Germans, the more certain one becomes that the rupture is absolutely inevitable – they all look upon it as a foregone conclusion and live and pray for it.'
In his letters he frequently refers to the German menace, which presumably was more evident in the East than at home.
Much to his pleasure, Allan was appointed Medical Officer to the New Territories (outlying districts), for his duties took him away from the worries of general practice to beautiful and unfrequented places, affording unusual incidents and experiences which were as nectar to his adventurous spirit. He wrote:
'I left Hong-Kong so precipitately as to suggest that the arm of the law was out after my blood, but I am really quite innocent in the meantime of any direct contravention.
'So here I am, struggling to write to you, with a very vile pen, on the very trampiest of tramps, and in the distance are the hilltops of the island of Hainan, to the capital of which, Hoi-How, we are bound as fast as the rattling old engines of this craft can hurry.
'The ship was built at Sunderland, is owned by a Norwegian, and chartered by Chinese. As a result of this hybridity, the crew are Chinese and the captain and officers Norwegian, and their means of conversation with the crew, English. The captain is a very decent soul. I always have liked the Norwegians, and he adds to my esteem of them. He has been married six years, and writes a letter every day to his wife – 365 a year – and she does the same. The great difficulty is to try to get the boat down without cholera or smallpox breaking out on board. All the last few coolie ships have been held up in quarantine, so I am going to be very wide-awake at Hoi-How.
'Later. After arrival at Hoi-How, we remained at anchor in the bay all one blistering day; the sea was dead calm and there was little noise, save the occasional Tattle of a hawser or the creaking of a sampan coming alongside; there was nothing to be seen – one hadn't time to go into the interior, which is inhabited by wild, semi-cannibal tribes. On board, I sat and read, while the sun beat down on the awnings and the flies buzzed incessantly. Later, the coolies came on board with a rush, and then the world awoke and pandemonium reigned. Every nook and corner is occupied by prostrate coolies of all ages, from wee children to old men. I examined each one and refused five. Smallpox, cholera, and plague were all bad in Hainan.
'At last we set sail. The first day out was rough, and it was one of the least pleasant of one's experiences to go round the holds, which were stuffy and smelly, and crammed with coolies in various stages of mal de mer, while all the time one had the strongest desire oneself – I leave the rest to your imagination! Amongst smaller inconveniences are the cockroaches, which are in their hundreds. I killed forty in my room last night – many as long as three inches. They fly about one's cabin and crawl about one's face and body in a most affectionate way, and I loathe them all the time. Then the bed is like a solid board, but the food is quite good, the crew very cheery, and I am feeling heaps fitter for the sea voyage, and sleeping like a top.
'Now this is the last night and to-morrow we are into Singapore again. … I have examined each coolie every day and isolated a few, but am glad to say we have got through without any cholera or smallpox so far. There have been a lot of wounds to dress, and teeth to extract; we have had malaria, measles, and chicken-pox of all things, as well, so we have really been quite busy. I have arranged the ship's drug-store, and drawn up a list of drugs and their doses and uses, and read two medical books that I have long wanted to get through, and so have not done so badly!'
By May he was back again at Hong-Kong, 'fairly settled down again after my trip south, and my Pathology class takes up a great deal of time – were I busier in practice, I could not do it. Next year it will come into the hands of the Professor of the new University, a man who will come out from home, and I shall be glad to hand it over, although I am afraid it means that, at least in the meantime, I lose any chance of getting on the teaching staff. However, I am thinking of starting as a freelance, to lecture on Applied Physiology and Simple Medicine, so that perhaps some day I may get a billet.'
This hope was realised, for, when Hong-Kong University, the great project of Sir Frederick Lugard, was opened in 1912, Allan was appointed acting Lecturer in Medicine. He had a real gift for imparting knowledge, but until now he had only practised it on friends in the throes of examinations. The two following letters show that his Chinese efforts had not been fruitless, or he could not have enjoyed the entertainments he describes:
June 10, 1911
'On Tuesday I went to a Chinese dinner. This time it was a private one, and the food was beautifully cooked. The women of the house, in their native costumes, were at one end of the table, and the men at the other, and we were not supposed to talk to them! The dishes were most expensive ones: bird's-nest soup, shark's fins, walnuts buried in pounded duck, peaches, nectarines, etc. We began at 7.30 P.M. and rose at 10.45, up to the eyes in food, and I confess I was feeling distinctly unwell next day. Towards the end of the feast they bring round a glass of native wine – "Sam-Soo" – and also a bowl of plain rice. The proper thing to do is to let the rice go past and drink the "Sam-Soo." If one helps oneself to the rice there is consternation in the heart of the host, for it means one has not had enough to eat. As a matter of fact, I could not have eaten a single grain of it if I had been paid for it … Well, I must dispatch this, as my Chinese teacher has arrived. I have started struggling again with the language, and am full of resolve to get the better of it.'
And in September:
'Last Monday I went to a very fine Chinese dinner, given to Fitz and me by a grateful patient, who gathered all his nearest and dearest around him to fete us. It was unique. I spoke Chinese to the best of my poor ability and had a thoroughly hearty time. He was a dear old Chinaman, and the whole thing was a huge success!'
The Nationalist Movement in China was in its early stages in 1911, and Canton its headquarters. As will be seen in the letters which follow, his sympathies were entirely with Young China in its effort to throw off the Manchu domination. In May he says:
'The Canton Rebellion is quieter than when I last wrote. A large number of Chinese have been killed on both sides, but the movement is not anti-foreign, and no European has been injured. The ruling Manchus managed to terrorize the rebels; one method was to execute them in boiling oil – it starts cold, and gradually gets hotter and hotter, taking two hours or more to kill. It doesn't sound a jolly death, but they tell me that some men never cry out once!
And in October:
'The Revolution is spreading all over China, and will probably soon be more extensive than the famous Taiping one that Gordon squashed. It is, more or less, a unanimous move on the part of the real Chinese to throw off the bond of the Manchus. These latter have kept China back in the dark ages, and resolutely stamped upon any attempt at reform, and the time must come, sooner or later, for a change if China is to keep her place among the nations of the world, who are only too ready to step in and partition the whole place up. At present the rebels are winning all along the line, and will soon be advancing on Pekin itself. I think it is generally recognised that the whole business is a most excellent one for China, and will lead to reform, whatever happens. The corruption among high officials is too ghastly to contemplate; an instance is shown at the battle of Hankow the other day, when it was found that the Imperialist troops were firing wooden shells. The excitement amongst the Chinese in Hong-Kong is intense. The insurrection broke out in Foochow last night, and at any moment Canton will be up in arms.
'I was having supper with some Chinese in one of the big Chinese restaurants the other night, when suddenly a telegram arrived from Canton. Every one rushed out into the street, and the place was thronged with a surging mass of men. It was quite an effective sight as I leant over the balcony of the restaurant, looking down on the eager crowd below, under the light of the swinging Chinese lanterns. Then as the news spread around, cheers went up on all sides. Eventually I learned what had happened. The new Tartar General, who had passed through here the day before, on his way to take command of the troops, had been most effectually killed by an enormous bomb dropped on him from a roof-top. Thus China reforms; whereas five years ago they hardly knew what a bomb was, they now make them big enough to blow up two hundred people, and set a street on fire.'
Stoical as he was in adversity, Allan had an acute appreciation of the value of comfort – indeed, of something very like luxury. He possessed what a poet has termed a 'Babylonish heart,' and the following letter shows how much his surroundings affected him:
'My room is now assuming extreme comfort. There is nothing wildly original about it; the walls are pale blue, and the big soft Chesterfield sofa and the arm-chairs are covered with Japanese crepe of the same shade, with dark blue cushions. The floor is teak, and is at last properly polished. In the process of getting it done I have, however, lost a good coolie. He struck at the polishing and got lazy, then openly disobedient, and then just exactly two minutes later he was out in the street. It rivalled the transit of Venus in its rapidity, and I felt a glow of virtuous wrath after it was all over. It really is quite a pleasant sensation to seize a large-sized coolie by the back of his neck and run him out of the house. A successor turned up next day.
'Well, to bore you further with the room, the floor is polished teak, and I have a small Tientsin carpet, rather nice, deep red with a border of dark and pale blue. The rest of the furniture is polished teak, the only exception being a fine Chinese screen, black lacquer with veins of fire running through it. It is really comfortable, plenty of room about it, and makes me realise more than ever the comforts of bachelordom. It is a selfish existence! I prowl round the room every morning in a large bath-towel, on my way to my bath, and am much worried if everything is not exactly in its place. The veranda runs right round, and is fine and broad, and I have a gardener who comes in daily and keeps a large selection of palms and flowering plants going.'
From this description he turns to the troublous times he was living in:
'The Rebellion is spreading like wildfire. Last night the streets were pandemonium, because news had arrived by Chinese sources that Pekin had fallen. I don't think it is yet confirmed, but they are wonderful people for getting accurate news. Canton won't be long now, and I think the Manchus will make a stern fight for it. They have threatened to burn the whole of that huge rabbit-warren of a city to the ground, and they can do it. I hope to go up there next week, as I believe, with the present exit going on, silks, etc., ought to be going cheap. If you don't hear from me next week, you will know that I have got held up there. I think it would be splendid if the Revolution started while I was there!'
This finishing sentence shows how really youthful the subject of this memoir still was – temperamental too, for in a letter written at the very end of 1911 he says:
'My Chinese lilies are out in time for Christmas, weeks ahead of any one else's, potfuls of them, growing in pebbles. Then, yesterday, a consignment of old Korean brass arrived. I have had a man up in Korea collecting it for me and others, and some of it is really splendid: old temple candlesticks, three feet high with butterfly windscreens; old habaschis and bowls. The coolies will be kept hard at it polishing.
'It is strange how quickly one's existence is forgotten by people at home. I don't think I have been very slack about writing, but I have had few Christmas letters, and one realises that the longer one stays out, the fewer ties there are to take one back, until they cease to exist altogether, and then it is only the love of one's native land, the smell of the heather on a hot day, or the splash of a trout on a summer's evening, that drags one home in the end. This is morbid, and I must switch off.'
The opening of the University was an important day in the history of Hong-Kong, and Allan duly appreciated its significance. 'It was a big show,' he says, 'and Fitz and I made ourselves horribly conspicuous, as we were the only people who wore robes. We got them out specially and were jolly well determined to wear them. The M.D. robes of Edinburgh are the most startling scarlet, and I can tell you there was an absolute hush throughout the building as we strolled up just before the Government party. It took a lot of courage to do it.' Later he writes : 'I rushed up to Canton yesterday, and had a busy day seeing Chinese doctors and dispensaries. When quite tired I went back to the Shameen and dined and slept on board H.M.S. Clio, where Orwin is Surgeon. Had a cheery evening and caught the early boat back this morning.'
In August 1912 he writes: 'I hear the snipe are in, and I am going to have a day at them one day next week. It will be top-hole to get out of this place if it is only for a day; as Government Medical to the New Territories my duties take me out occasionally to the out-stations, and I shall see that they take me out to a place where there are snipe, and that right soon. I go out and stop with the Police Sergeant, and will be able to rise at the very crack of dawn and get down to it.' In November he writes: 'Now the birds have all flighted south, and there will be no more shooting until the winter snipe come in. That is the time I enjoy, going away up the West River for two or three days in a house-boat, shooting all day, blue sky above and a cold nip in the air, and a dog-tired feeling at night, lying on deck smoking a contemplative pipe before turning in and watching the moon come up behind the paddy fields, knowing that there is going to be an early start at 4.30 A.M., in the dark, to try and get at the flighting duck. Then, indeed, for a season, one lives.'
During 1913 the pressure of work increased. Allan had several private anxieties of his own; he was not well, and suffered both from insomnia and from his heart. He often longed to get away from Hong-Kong altogether, but it was naturally more and more difficult to take a holiday. However, in January 1914 he managed to get away for a short time on a contract job, in charge of a ship full of coolies, and went north to Swatow, where he had time for a week's shooting trip up the river in a house-boat. The insomnia disappeared, and he returned to work keen and refreshed.
The letters which have been quoted tell us something of his life, but only a limited part of it. From them it would not be gathered that he had in three years developed into a personality, almost an institution, in Hong-Kong. But such was the case. He had made his mark as a surgeon, and patients of every class, one might almost say of every colour, had come to depend on him. 'No white doctor has ever had such a following as he had, and probably never will again' (I quote the opinion of another well-known doctor in Hong-Kong). He inspired patients not only with confidence in him, but, what is rarer, with confidence in themselves, helping them morally and physically to face facts courageously, for it is a merciful fact that vitality, like depression, is infectious. Like every good doctor, no case was too small for him, no patient too poor, and he would take as much trouble over an unfortunate coolie as over any one else.
There are 365 days in the year, and it is impossible to do kind deeds every day of the 365 without its having effect. In his three years at Hong-Kong, Chinese and Europeans alike had come to look upon him as the unfailing friend who might be counted on whenever difficulty arose. There is a Persian proverb, 'A friend is one who knows all about you, and is still your friend.' Allan was a true friend, for all he knew never affected his friendship. He refused to judge man or woman, and again and again the sick and penniless were taken to his flat, nursed well again, and sent on their way with money in their pockets with which to make a fresh start. He was a 'saint without a conscience'; his goodness was unpremeditated and had no 'ought' about it; it seemed as natural for him to help a 'dead-beat' of another class as to arrange a trip with one or two friends on Sundays, going in rickshaws with the dogs up into the hills behind Kowloon city, away from everything and everybody.
Towards the end of 1913 he wrote:
'The B.I. Line, who have at last got a hold in the China coast, are pushing the Japs out of it somewhat, but everywhere the ubiquitous German is working ahead, forging on to being the dominating military, naval, and commercial power of the world; that WAR is bound to come; to what good, if any, remains to be seen.' He had little idea how correct was his prophecy when he thus wrote.
The war came, and the various regiments departed, but little news of the course of events in France reached Hong-Kong for some time. The tenseness of war was lessened by distance, as this letter from him to a friend who had left Hong-Kong shows: 'We are in a state of much military activity. There are outposts everywhere, searchlights sweep the harbour, every one is in khaki, no one can leave for Macao without a permit from the Provost-Marshal. The harbour is closed, battleships creep in and out, all the Empress boats have been painted battleship grey, the price of food has gone up, and we get no news of the war. So now you know how Hong-Kong stands.'
He knew well that for him it was quite useless to attempt to get into the Army by ordinary channels, in any capacity, medical or otherwise, on account of his heart. His one hope was to evade all medical boards, and slip in somehow. In 1915 he made repeated efforts to be appointed as Medical Officer to home-going battalions, whose Regular M.O.'s had been recalled. He all but attained this, but at the last moment Regular officers from India were appointed, to his bitter disappointment. He was greatly saddened by the death of his cousin, Captain Dalmahoy, 40th Pathans, who was stationed in Hong-Kong when Allan arrived there. The heavy losses of this regiment, to which he had hoped to be attached as M.O., filled him with sorrow. Dr. Fitzwilliams left for home to join the R.A.M.C., and Allan worked on valiantly, struggling with ill-health and overwork.
He wrote to an officer of the 126th Baluchistan Infantry: 'It was good of you to remember this heart-broken devil out here and send him a line. I appreciated it more than I can say, but life is one long rush from dawn to dusk, and I have not written a letter to a soul for weeks and weeks, partly because quite a number of folks I would like to write to are absorbed out of all ken in the turmoil of this great affair, while many another has solved the riddle of life.
'For a week I was going with the 40th Pathans as M.O., when H. ousted me. Then for a month I was going as M.O. to the 26th, when J. ousted me, then C. went off – that put the lid on it and spoilt all my chances of getting away. It was no use my going home with my rotten heart. I did my best to get a job, but I shall hate myself for evermore all the same.'
At the moment of writing, in June 1915, he was still suffering from a severe attack of dysentery which was immediately followed by appendicitis, for which he was operated on in the French Hospital. Ten days later he says: 'I have got the appendix out and am very fit, taking it all round, though I am not exactly keen on going through it all again. Still it is a great experience, and one learns a lot of little things that will be useful in the treatment of others. Now I am waiting until it joins up, and then as soon as I can travel, will go up to Japan and lie quiet in some out-of-the-way spot.'
As soon as he was fit to be moved, he was carried on board ship and taken north to Japan to recover. He lay on deck during the voyage, feeling more dead than alive, and later was carried up country in Japan to a tiny inn beside a remote and lovely lake, renowned for its fishing by the few who knew of it. For days he lay beside the lake, far too ill to touch a rod, well tended by the gentle, kindly people of the inn, until slowly he recovered strength and drank in the absolute peace and beauty of mountain and lake. Afterwards he fished, and by his account, never was there such fishing! He then crossed to Pekin, and after wandering about for some little time longer, regaining strength, he returned to work in Hong-Kong.
It is difficult to give any succinct account of his doings at this period. He was at the full height of his power, and was straining it to the utmost degree, but he wrote no letters, and his friends had mostly left Hong-Kong, so it was only occasionally and from casual acquaintances that news came of the stupendous amount of work he was accomplishing, and of what a force he had become in Hong-Kong.
And so he continued to work and to fret because he was not at the Front, until 1916, when he started for Northern China to recruit coolies for labour battalions in France, a very difficult piece of work which he executed admirably, and which was only possible because of his aptitude for languages, as he had to learn an entirely new dialect in each recruiting area to which he was sent.
To a Hong-Kong friend he wrote:
'If it won't bore you I will explain. I got more and more worried in Hong-Kong. I knew it was my duty to come home and do my best in however small a capacity. It worried me a lot. I was worked off my feet; I never dined before 12.30 at night, and my "boy" dragged me out of bed at 6.30 each morning. I honestly couldn't have stuck it much longer!
'I did not want to come home and get stuck in some hospital in England on account of my heart, so I went and saw the General and fixed things up to bring a draft of R.G.A. men home. … At the last moment I was switched off the R.G.A. business and told to go to Tsing-tau, and bring coolies home. On reaching there I was told I was required very badly up country to recruit, so I had to bundle up there and live in Chinese inns, at a temperature of 104°, for three and a half months, examining, and principally rejecting, coolies all day long.
'When we got to the 60,000, which was the limit, a cable from home said they wanted 100,000 more, then I kicked, and went to Pekin and fixed to come home with the last lot I had recruited, splendid fellows!
'I came over with the Empress of Asia, and then brought them across Canada, and eventually, after being held up, across the Atlantic.'
A few of the difficulties in getting across the Atlantic are told in another letter:
'When I got on board there were no drugs, no dressings, no instruments, no dispensary, and no hospital for the coolies – my beloved Yellow Brothers – and I can tell you there was some fuss! I wired to Ottawa and wrote to every one I could think of – C.P.R. Managers, A.M.C. Generals, and one Member of the Canadian Parliament, and eventually got what I asked for, but only with a pilot at the eleventh hour and fifty-ninth minute. We carried five hundred more coolies than the ship could carry. They were disgracefully over crowded, with no bunks, just lying piled up on the floor, and down the alley-ways, and on the stair cases – result, an outbreak of scabies and ophthalmia. I was kept at it all day, and had all the sanitation of the ship to see to as well. We had some rough weather, and the coolies were very sick!
'We reached Liverpool after a most erratic course of many days, and were chased at once down to camp at Folkestone; arrived there dead-tired, hungry, and wet at 2.30 A.M., and had to turn out at 4.30 for air-raid until 5 o'clock, and left at 6.30 for Boulogne. Eventually landed there at their special Chinese camp, we found all the troubles of parades, etc., had been worth it, and got a formal note of appreciation from the C.O. for having brought over the best batch of coolies yet landed in France. No casualties en route, and only 3 per cent, with trachoma (the examination is extremely strict) against the usual 30 to 35 per cent. I don't think it was all hot air, because I had to write a report on the preventive measures adopted, which was sent up to H.Q., and the usual report on the voyage as well.
'I was dreadfully sorry to leave those fellows. Chinese or not, they were sterling good men. I really loved them, and they would do anything I told them; we never had a bit of trouble with them, and they were always so pleased to see one and showed it too. I had the deuce of a lump in my throat when I said "good-bye" (it sounds silly, I know) and they nearly tore me to pieces at the end. You see, I had recruited these men myself in Tsinan and they felt I was a little bit of home.'
The pity is that there was no other European on that recruiting expedition and voyage who could have given us a less modest account of a really remarkable performance – a performance which demanded for its success, endurance, adaptability, organisation, medical knowledge, and, perhaps most of all, the magnetic personality with which Allan was endowed.
---
Chapter 4
France
After handing over the coolies, Allan went to the Front in an ambulance, and at first sight of war felt his own experiences fading into nothingness compared with the incidents he witnessed. He then got ten days' leave, and as his father was at Kingussie on Speyside, he spent most of his ten days with him. (It was seven years since they had met.)
Neither friends nor relations knew what had become of him – it was months since they had heard of him, and their surprise was as great as their pleasure when he suddenly appeared.
From Kingussie he reported himself at Blackpool, where he dexterously evaded Medical Boards. He says of his first military experience:
'I am here under canvas doing drills, riding and attending anti-gas lectures, which are very good, and others on Military Law, which are not. The weather is damnable – no other word – wind, rain, and hail daily and all day, camp an exaggerated mud pie.
'Every one for weeks has been sent to Mesopotamia, Egypt, East Africa, and Salonika, and they are bringing men back from France and sending them there, but because I have been ten years in the tropics and probably know a little more about tropical diseases than the majority, who have never even seen an anopheles or heard its seductive note, I have been posted for France, for which I am duly grateful, though it seems to annoy the others. There is, however, a chance (unless I remain firm and refuse) that I may have to give them lectures on Tropical Diseases, a fatal procedure which might tie me up here for weeks.'
The fatal procedure was avoided, and shortly after he was sent to France. For a short time he was attached to a Chinese labour battalion, but he succeeded in getting to the Front by persuading the authorities he knew no Chinese and was therefore useless!
In December 1917 he wrote from France:
'All, this is a bit better; if the orderly would only stop asking me what the Colonel is going to do next! Am I the Colonel's keeper? Still, the question is reasonable enough; the only trouble is, that no one, not even the Colonel himself, knows what he is going to do next. You see, the poor fellow was a heavy smoker, and prompted by some unknown impulse, he decided to give it up three days ago, with the result that he has had a bee in his bonnet ever since. We live on a volcano, and we all get it in the neck! During my sick parade this morning, I nearly died of laughing; he came into the room like the tail end of a typhoon sweeping up the China Sea to Luzon, just when the most miserable little white-faced "Labour Corps" man was up before me. The poor beggar could hardly move for rheumatism, and had on an enormous coat, far, far too big for him; there were no signs of hands, and it flowed along the ground behind him, while his weeny face peeped out from the huge upturned collar. The Colonel's eye lighted on this, and the effect was electrifying, just as though you had kicked a real live bomb, thinking it was a dud: "What the — is the — fellow doing dressed up like this? Take him to the Quartermaster's stores at once! Never saw such a — spectacle in my life. Don't you know, my man, that you have no right, no —ed right, sir, to come up on sick parade clad in a shroud?"
'The C.O.'s most appalling enormity has been to order his officers – we are only five all told (two medical, two regimental, and an adjutant) – to parade daily before dawn to do physical exercises. Can you imagine any more pitiful sight? We are called by the batman when it is quite dark, and (how I hate myself) emerge from a very comfy warm flea bag into an utterly utterly utterly uncomfortable dark cold flappy tent, and proceed to shave in cold water and dress. Usually one's stud falls on the floor and runs underneath the bottom of the tent into the drainage trough outside! Well, we emerge, scowling at each other – the most brilliant sally of wit falls flat – and proceed in the murky half-light to do the "goose-step" walking, and at the double, various breathing exercises and bending movements, by which time we are purple with cold and the surrounding air with our language; then a pinched, red-faced, warmthless sun appears overhead, and another day is born. Five wild rushes round a bucket or with a skipping-rope send us into breakfast, really feeling, I confess it, as fit as possible and ready to devour anything.
'After breakfast comes the day's work; we are kept very busy, and as there are only two of us, we have to be orderly officer every second day, which ties one down very much. We admit cases from other hospitals, and direct from the line. It is an eye-opener to realise the enormous loss there is to our combative strength from sickness, apart from wounds; I suppose about twice as many as from casualties.
'It is a strange world over here, a country in the grip of war, every road and lane seems to be part of the great network – long streams of things that move, often very slowly, motor lorries with supplies, ambulances with wounded, traction engines dragging enormous guns, troops going up to the line, troops coming back, some going on leave, some coming back, day in, day out. And not one fraction of this chaos knows what another fraction is doing. Yet, I must say they seem to be the intelligible production of a general cosmos. … I think at heart we are a gregarious folk, and desire the sunshine and the presence of our own genus, and perhaps that from our cradles the darkness has always been interwoven with tales of murder, and bogies, and all that ilk. . . . This is getting involved, but is a problem which is worrying me, and when fellows come up before me with strange little patches of white hair among the brown, and their nails all eaten away down to the quick, I know that they have fought the hard fight, because while they have been fighting Fritz across No Man's Land, they've been fighting their soul's honour across the valley of the shadow of Fear, and I have sent them down to their base with a recommendation for Blighty. If I had my way, I'd put those lads up in Speyside, where there are no rumours of wars, and feed them on home-made scones, fresh butter, and heather honey all the live-long day.'
'His letters from France supply no continuous narrative of his doings, but for his services at this time he was awarded the Croix de Guerre by the French Government. In April 1918 he wrote:
'The postal service is really wonderful, when you consider what things are like up here just now in this ghastly pressure: trains roaring up with fresh troops; great heavy transport waggons loaded to the roof; guns being rushed forward; everything apparent chaos, telephone going all the time, and the anxiety of how things are going; 'planes over by the dozen. I could go on for hours in this strain—one's whole perspective alters. Everything seems utterly small in the world away from Flanders, where it would seem the fate of an Empire is being decided.'
And in June:
'The Hong-Kong papers arrive and are most welcome; every word is read, and then I send them to a Hong-Kong man who is not far off, and he passes them on to another, and so you see they get well handled.
'Since the big push started on March 21, we have had a pretty rough time of it, always a lot of anxiety, and, as a rule, too much work. At present I am on a Staff job which gives one a good insight into the inner machinery of the Army, especially the medical side of it, but which I naturally do not care for so much as a Field Ambulance. It may be only temporary, but the Colonel is beginning to have some absurd notion that he can't do without me – wait till I let him down badly one of these days, and that will soon vanish.
'I look back and wonder, "Was it worth it?" and the answer is every time, "Absolutely." The little I do is, of course, immaterial – I am not such a fool as to believe it is worth anything. That is to a certain extent due to the Army system, in which one becomes a cipher, a little nut in the machinery, and one has simply to do a certain allotted job to the best of one's ability, knowing that the betting is almost a certainty that when you become really proficient you will be moved to another job. Such has certainly been my experience; at first I was very fed-up, but I am not now. I have come to the conclusion that it is the doing of the job you are put to that matters, and not the job itself, and I don't care now what happens after the war.
'I expect I shall probably come back to Hong-Kong, but as far as I am myself concerned, I would rather be a wanderer on the face of the globe, so much my view of things from a distance has altered my perspective. It may be but the swing of the pendulum – I don't know – but I do know this, that I have conceived a totally different idea of what is valuable in life, and what is worth having. Money – no; a sufficiency – yes; but one doesn't need much to be happy. Success – what the world calls success seems rather an empty husk – the civic chain, etc., don't really bring much joy to a man. Peace of mind – yes, that with health is the one thing worth having. Somewhere there is work to be done, without the mercenary idea for ever dogging one's footsteps; where there is time to read of the wisdom of other men, where there are real friends, and where one has time to carve out for oneself the sanctuary of one's own soul. Perhaps I am dreaming of an Elysium, but I give it to you for what it is worth. I have thought over these things often in the watches of the night, and have found no satisfactory answer.'
Considering how hard he was working, one almost grudges him any 'watches in the night' for speculation. In October he was in the thick of activities:
'The fighting,' he says, 'is very severe around Cambrai, which seems to be the keystone of the Hun position. It is the fiercest of the whole war, and of course the casualties are large. The hospitals are full, and the ambulance train is running all the time, but the news is very good and the men are as cheery as possible. Soon, I hope, the Bosche will be back to a new line, Antwerp to Metz, and give us the Channel Ports. But the country he leaves behind – words cannot describe it – yawning wounds and shell-holes, no tree, no habitation, only death and dead.'
November 9
'Since last I wrote, I have been all over the place, but am now back here as D.A.D.M.S. At least, that is the job I am doing, but I have not been gazetted yet. They have threatened to put me in charge of a Chinese hospital in some God-forsaken place. Having no axe to grind, I have written and told them I prefer to remain where I am. I told them I didn't care a bit whether they sanctioned the majority which this job automatically carried with it. I am just as happy without it; all I want is to carry on till the end, and then get out of it as soon as may be. The news is splendid; it does really look like Peace before Christmas after all.
'I never thanked you for that last enormous and excellent cake. Then the nuts, after wandering round, found me at last. They were quite the best nuts I have ever eaten; the Mess went the length of getting a case of "Port" to drink with them, and I regret to say that a visiting General made a perfect beast of himself with the quantity he ate. I could hardly restrain myself from leaning across the table and saying, "Enough, confound you, you greedy old man," but he was so obviously enjoying himself that I had not the heart to.'
Then came the end of the war:
November 11
'There is a tremendous noise outside. It is the moment that hostilities have stopped; whistles, guns, sirens, all going, one of the greatest moments of the century and of our lives. I am up to the neck in work – provision has to be made for the immediate reception of twenty thousand repatriated men, selection of camp, water supply, housing, disinfecting, etc., so no time for more.
'P.S. – As to the next move:
'(a) Research work would suit me very well, but doesn't keep the pot boiling.
'(b) G.P. work at home – ye gods! how can you suggest it?
'(c) Harley Street, also needs capital, and I would not be allowed to wear my bowler hat.
'(d) Hong-Kong – I wonder.
'(e) South Sea Islands, palm trees and sunshine – good.'
War might be over, but work went on, and the following gives some idea of the stress in France:
November 28
'Since I came here my soul has not been my own. It is one continuous rush from early morning until late at night – an endless procession of minutes to write or answer with the telephone ringing almost continuously. There are more than 100,000 troops in the area, so it takes some doing, and we have now the repatriated men as well, and I suppose demobilisation will start soon. I have never in my life sat hour after hour in an office. It isn't medical work, and I'd give anything to get out of it. Being here, and having signed on for the "present emergency," I shall probably be the last to leave; I wouldn't mind if I were doing medical work, but this – ye gods!
'However, I have groused enough. I am quite fit again now, and after all, health is the only thing that counts in this world. I have come to that conclusion, and I am sure that you will agree with me.'
After all, health was about the only blessing he did not enjoy, and on going through this record it is painful to realise how his life was punctuated by illness and hampered by his heart, but it took a great deal (more than a septic arm, as will be seen by his next letter) before he allowed any illness to interfere with his work. 'Very little time for anything outside office work,' he wrote. 'A whole lot of men, all the 1914-15 crowd, have had to be demobilised in a body, and the making out of priority lists and demobilisation forms has been eternal. The net result has been that we have not got nearly enough men to carry on, and unless reliefs roll up, we shall be in the soup. I am absolutely short-handed in the way of office staff, and have to make out all my returns by myself. Then, added to this, the Town Medical Officer has been on leave, and I have had to do his work during his absence. And finally, to complete the tale of woe, I have had a rather bad septic finger which spread up into the arm and prevented me from using it. However, it is now going on all right, and as a result, I have managed at last, after trying for months, to get a machine on which to write …
A G.R.O. has been published two days ago, which says that all officers and men of Group 45A have to be in England by June 15. I belong to this group, and so really ought to be released. My Colonel, however, has, I know, written to say that he cannot spare me at present, until a relief has been sent, and I have promised to remain until next month, rather than let the old man down.'
Release did not come until July 1919, but in April, on hearing that a child – one of his brevet nieces – was dangerously ill with pneumonia, in Yorkshire, he managed, despite the pressure of work, to dash across for a couple of days. The parents of the little sufferer will never forget the comfort of his presence. It was more than they had hoped for, and yet it was so like him to move heaven and earth to stand by friends in trouble.
---
Chapter 5
The East Again
It would be difficult to say what decided Allan to return to Christmas Island at the close of the war; a chance meeting with a member of the Phosphate Company suggested it, and the Company, having found him again, was determined to secure him if possible, and he was practically allowed to make his own terms. At the moment he was war-weary and far from physically fit. His last years in Hong-Kong had been full of unceasing toil, and much in general practice had, in spite of his success, been distasteful to him, and a great longing for peace made the Company's offer alluring. But even before this he had half decided to make a bid for a return to his 'Island of Dreams.' He very speedily arranged matters with the Company, and booked his passage for early in September 1919.
The two months' breathing space was spent with his father at Kingussie, with his friends and cousins in Edinburgh, and at Cockenzie. His preparations for the island were much more elaborate than when first he started for the East. This time he knew what was wanted, and meant to be prepared for it. In the short time available he made an amazing collection of goods for the benefit of the inhabitants and himself: pure-bred poultry, a girdle for baking Scotch scones, a cinematograph to amuse the coolies, were on the list; also seeds and plants for his garden to be, in the hope of improving the island diet. With his usual thoroughness he collected recipes for delectable dishes, and took cookery lessons in Edinburgh.
His friends felt it was hard to let him disappear again so quickly, but then if he did not go away neither would he come back again, and there was nothing in the world more delightful than Allan's meteoric returns!
He reached Christmas Island in October 1919. The Company did well to secure him, for his experience made him doubly valuable as an official, and by the time he reached the island he was full of fresh energy and ideas.
He planned and erected a new hospital, to contain twenty-five beds, besides private accommodation for European patients. His flowers and garden loom large in his letters, and he struggled in his painstaking way with the rebellious hens, who for a time refused him eggs, but who eventually, like every one else, succumbed to his persuasions and agreed to produce a constant supply of eggs and chickens.
But all was not plain-sailing, even on the Island of Dreams. Even there, the spirit of unrest and discontent was dominant. In his letters he naturally minimises his share in restoring law and order, but had it not been for him the serious riot which broke out in December would have been a tragedy, the small white population massacred, stores destroyed, and starvation the lot of the survivors. The island at that time was as isolated as a ship, and depended entirely upon the Islander for supplies. He tells of the rebellion in a long letter of December 20, 1919:
'If in a moment of aberration I left home with the fixed idea of finding one spot in the universe where one was free from riots, strikes, murder, and sudden death, and if I thought that by coming out to this Island of Dreams I had found it, I have been sorely mistaken. Since last I wrote, we have had enough concentrated excitement to last for a short while anyway, but, as far as I can see, we are not through with it yet.
'It all happened thus. There is a Chinese holiday on what corresponds to December 22; this is not an important day in their calendar, like the Feast of Ancestors, and so the head Chinaman (known as the Towkie) thought it would be well to hold the holiday on the 25th, and thus every one would have a holiday at the same time. This was approved by the other coolies, especially as I indicated that I would put up a feast, and if the cinema arrived by this next trip of the Islander, I would have given them a picture show as well. There are, however, amongst the more recent arrivals many very bad characters. It is not possible, on account of the adverse rates of exchange, to recruit the type of coolie one used to get direct from China. The result is that the only coolies that can be obtained are those who have been in the Rubber Estates in the F.M.S. for a long while, and the only ones that want to come down here are either chronic opium smokers – opium is cheap here – or else bad hats trying to escape from police surveillance.
'One of these men posted an impudent notice saying that they refused to have the date changed. The Towkie sent for him and there was a scrap. I think the Towkie should have called the police and had the man arrested properly – he certainly had no business to take the matter into his own hands; but he says the man made an attempt to strike him, and came in looking for trouble. Certainly the man in question is about as low a dog as they make 'em. Anyhow, the first intimation that I received was hearing the distant shouting and the continuous blowing of police whistles, and on getting there the riot was in full swing. About two hundred men were engaged in attacking the Kongsi store – where all the food supply for the coolies is kept – and the Towkie's house where he had taken shelter.
'It was pandemonium let loose. I jumped up on the veranda of the Kongsi and tried to get a hearing. A few heard me but the majority could not. I assured them that justice would be done and asked them to go home, and said the matter would be thrashed out in the morning. It was all of no avail. Bricks and heavy stones and bottles were being thrown at the two buildings, and were coming uncomfortably near my head, so I tried to stop the riot by mingling with the crowd and tackling groups. They would only listen to me for a moment, and then a shout would set them off again. For over an hour this went on, getting worse and worse. At one time they saw one of the Mandores (head quarryman), and he tried to get silence for me to speak, but just as they were beginning to quieten down, a man shouted that the man the Towkie had struck was dead, and that fairly infuriated them. I assured them it was a lie, and so did the Mandore. Then some one shouted, "Kill the Mandore!" and they rushed him. I thought it was all up. He got one blow on the head, and then I got him under my arm, and backed him against a wall, and held them off until he escaped. I got several blows on the arm and head, but they were not meant for me but for him. All the way through the show they never willingly attempted to attack me.
'The other Europeans were of course lending a hand all over the place, in the same way as I was, but they could not speak to the coolies.
'Then things became much more sinister. I stopped six men armed with heavy axes, and there was a shout of "Foh Shui" (kerosene), and back some of them came with tins of kerosene – they had broken into the oil shed and got at the stuff. I stopped one lot applying a lighted lamp to a burst-open tin at the Towkie's back door, and came round to find another lot doing the same at the front door. Things were getting desperate! The Sikh police by this time were drawn up and armed in an attempt to defend the Kongsi store, where all the food supply is kept. There was a wild shout, and they rushed the police! I was very busy at the time stopping coolies arriving with kerosene, but I realised that a wave of coolies had swung towards where the police were standing.
'Then some shots rang out. I thought they were Chinese crackers, but a man two yards from me spun round and fell, and I realised that the police had opened fire and that I was in direct line. However, the result of the shots was magical! The coolies bolted like rabbits to their houses, and peace reigned. I could not find a soul to help me with the wounded, until at last I found a trolley and put them on; one dead outright, one dying, two others very seriously wounded, and two more slightly wounded. I had a fairly busy time of it!
'For the next four days no work was done, and all the coolies were on strike. I addressed them myself, and through the interpreter, and their demands were entirely unreasonable. The acting District Officer is Manager as well, and is not in a position, I suppose, to be strong with them. What they should have done was to follow up the original initial victory and get hold of the ringleaders, most of whom I can identify myself. As it is, they have been given a great feast for the two who died, and are still in a state of seething discontent.
'There has never been any foreign element in the show. I know these folk well enough to know that it would not take much to start it. You have only to get about twenty really bad men holding secret meetings, and then the fat is in the fire. Had they fired the store, we should have been faced with the problem of starvation. We only get one mail a month, that is to say, once the Islander has left we are absolutely cut off from the outside world till she returns. Anything might happen in that time. I have insisted, for the safety of the community, that a wireless be erected as soon as possible. The coolies are back at work now, as martial law has been proclaimed. If strong action is not taken, this is only the beginning of much worse. I am very fond of many of the coolies – they are tremendously good fellows – and I am certain the better element will welcome a strong line being taken against these devils as I should.
'That night they were yelling and cursing and foaming at the mouth like madmen – it is not a sight one will forget in a hurry, with the light of the torches and lamps – they were out for murder and arson, and would have done both if the shooting had been withheld for ten minutes later. As a matter of fact, the first shot was fired by one of the police in self-defence, as he was being attacked by the coolies in a surging mass. He attempted, as ordered, to fire into the air, but one of them seized the barrel of the rifle just as he pressed the trigger, and got the whole charge straight into his heart. Of course, they were only using buckshot, but buckshot at close quarters can make a very nasty mess!
'I have been kept very busy, and am most of the time out at Hospital. The two that were killed were among the very worst – one, in fact, was the man who wrote the impudent reply to the Towkie. There are seven Europeans on the island, and we are not very strong if the worst happened, but we are armed, and of course I never go now without a revolver, though I personally am sure they would not touch me, as the majority are my very good friends.
'I am full of my scheme for the new hospital. I enclose a rough sketch of the plan I have submitted, which has been locally approved. I want to have it called the "Sir John Murray Memorial Hospital," and I hope they will make it a worthy memorial.'
His anxiety had been great, and one can read relief in the news (December 31, 1919) that –
'The Islander has just arrived – earlier than expected – and on board a Magistrate, a sergeant of police, and twenty Sikh police, so now I hope drastic action with regard to the recent riot will be taken. I am sure that many of my old friends among the coolies will welcome direct action. They are at present being terrorised by a lot of "bad hats" – the discarded rabble from F.M.S. Rubber Estates, who have only come here recently, and are Bolshevistic in the extreme. I hear that an armoured cruiser will call in a few days to make a demonstration. That would be excellent! It will show them that though a bit out of the way, we are still a portion of the British Empire. There is a lot of unrest here still, and I hope they will make a thorough clearance of the bad element and put the fear of the Empire into the remainder. Things were very nasty for a bit when at their worst.
'We have got about twenty-eight children on the island, Malays and Chinese, ranging from three years old to ten, and so I got down some suitable presents from Singapore and gave them a proper Christmas, which, after all, is no day unless you have children. I think they thoroughly enjoyed themselves, and I know I did. We first fed them, lots of bread and jam and cakes and pine-apple, and ginger beer which they much preferred to tea, and then we had games: the old favourites, blind man's buff, hide and seek, and races for the bigger boys in the garden round my house. Then I dressed up one of the other fellows as Father Christmas, and he was taken into the jungle behind a big rock, in front of which there was a tree with all the presents on it. They came along, and on reaching the rock I told them that a very old "Datch" (great-grandfather) lived inside and only came out once a year, and that I would shout for him, which I did. Nothing happened, so then I produced some gongs, and got them to beat them and all to shout "Datch!" at the top of their voices. This they did with right goodwill, a most appalling row which I had difficulty in stopping, so as to give the poor old Datch a chance. Then his gruff voice was heard: "Who calls?" At this, some of the younger almost bolted, and when the aged one appeared, two burst into wails of terror; but when they found he was a nice old man, they got quite brave and were all very happy. After he had given them their presents, he said, "Farewell, for another year," and departed with a wail into the rock again. It was all most impressive; several of them had nightmares that night, and next day I found two near the rock shouting "Datch!" as if to burst their lungs. It will have to be an annual feast in future, as I think they highly approved of their first introduction to a British Christmas party.'
Somewhere and some day – a day, alas! that was never to be – Allan intended to create a perfect home. That he appreciated the fact that the fundamental of good housekeeping is a good cook is shown in the domestic aspect of the following:
'I have moved into my new house, and am getting it in order. The first thing was to get a cook. The old residents said, "You will have to send to Singapore for one." They are very hard to get, and the wages are almost prohibitive. Any one who has lived up-country in China knows that John is a natural cook, especially the Cantonese, and that eight out of ten can really cook well if they have half a chance. So I walked along the coolie lines in the cool of the evening after they had the meal supplied to them, but at the time when they are cooking the little tit-bits their hearts long for, if they have a cooking strain in their systems. And when I smelt an unusually appetising aroma ascending to the skies above, I strolled over to inspect the cooker, my object being to find if possible a man I knew personally, and one who was naturally clean. One can divide the coolies into two groups: those who wear at night the clothes they have worn during the day, and those who come straight down from the quarries and change, usually into thin white clothes. My inspection was rewarded, for I found Ah Tak, a coolie I knew to be very clean, cooking the most delicious ragout of fish and vegetables, so I asked him if he would like to come and cook for me. He thought at first that I was pulling his leg, and when he found I was in earnest was highly delighted, but said that he could not make any European dishes. However, I told him he had the soul of a cook and that was good enough, and he has been a great success. He has a supreme respect for my knowledge of cooking, which is a comfort. One usually feels so infinitely small in the presence of one's cook, and it is a novel sensation to be venerated instead of merely tolerated. The secret is that before visiting him I spent ages working up an item or two out of the Edinburgh School of Cookery Book, which I brought out with me, and so far it has not let me down. Then I am really quite good at baking bread and scones, oatcakes, etc., and was able to help him there, so that the girdle has been in constant use.'
In the spring of 1920 he had to go to Hong-Kong on business connected with his practice. He had intended it only to be a visit, as indeed it was, but while there he found himself forced to promise to return again for good and all. His business arrangements alone made this obligatory, and also it would have taken a stiffer heart than Allan's to refuse the entreaties of friends and patients. But the decision was not easily made, and the difficulty was increased by the attitude of the Phosphate Company, who had been generous not only to him, but in acceding to every request he had made for the welfare of the coolies.
A letter written on the return journey, after the visit to Hong-Kong, is worth quoting, as it shows the vicissitudes which Allan's obliging nature often led him into:
Singapore,
July 1920
'I had promised the fellows on the island to bring down some good Leghorn fowls and some Chow puppies, so I could not travel by P. & O. or Japanese Mail, as they refused to carry live stock, so I had to come south on a tramp carrying coolies, and had the most poisonous trip I have ever struck. I had no cabin, and had to sleep on deck. Two days out we got into a typhoon, and the vessel being a small thing, and without cargo, rolled and pitched and writhed about in a most diabolical fashion. I lay on deck, and dragged my mattress around trying to find a dry spot and seeking to escape the green seas that were coming over, and at the same time being violently ill at frequent periods. The puppies made the most horrible din, yelp, yelping, till I wanted to heave the whole lot over the side and follow them myself. However, even that concentrated misery came to an end, and once on shore I had the appetite of a tiger after the forced starvation. I am off to-morrow by the old Islander, back to the hermitage!'
I have spoken of the pleasure which Allan's returns gave. It will be seen from the next letter that this was the case, whether the setting was in Christmas Island or Scotland:
Christmas Island,
July 30, 1920
'Back again, as you see, on the old island. I had a good trip down on the Islander, and begin to think I am becoming a sailor in my old age, as after Java Head there was a stiff south-east monsoon blowing, and I turned up at every meal. We had eight fellows on board going down as reliefs to the cable staff at the Cocos Islands, so were quite a cheery party, and had some Bridge – a rare treat on board the Islander. Every third month the Islander goes on to the Cocos with reliefs, and one of the eight this time was a very old friend of mine. I think, on the whole, they are worse off than we are, as, although there are more of them, and they are in touch through the cable with the news of the outer world, yet they only get a mail once in three months, and the island they are on is only one mile long. They can walk all round it in twenty minutes!
'I had a great welcome from the coolies on my return. You would think I had been away for a year instead of two months. They came down to my house at night and let off many dollars' worth of Chinese crackers, waking the whole settlement, and startling the women with visions of another riot, and then presented me solemnly with six bottles of brandy, four dozen of beer, and two fowls. I hate when they go and spend their hard-earned wages in this way, but what can one do except thank them and promise to look after them as well as one can, but you can understand how fond one gets of the old things, when they show their gratitude for the little one has been able to do for them in such a characteristic way.
'The four Chow puppies stood the journey all right, and the prize Leghorns that I brought with me are settling down in their new quarters and have commenced to lay. The garden is looking simply splendid; the flowers are out in masses of bloom, and I really feel that one was justified for the hard work one put into it.'
In view of his really precarious health, and his total incapacity to take reasonable care of himself, all his friends must wish he had never decided to return to the strain of Hong-Kong, and had continued the peaceful life which the island prescribed, as depicted in his last letters written there:
October 1920
'The island is the same spot, far from the noise of this comic world, and life goes on quietly but cheerily. My black mare is the joy of my fading youth, and the garden is showering her blessings upon me in a manner which is positively prodigal. I have heaps and heaps of yellow, white, pink, and deep red roses, full of scent if gathered in the morning quite early. I can't give you their number in catalogue, but I do know they are really very beautiful, and as I was told they would not grow I am more than pleased. In the vegetable garden there is a fresh crop of tomatoes in flower, and lots of peas, and behind them scarlet runners, which are so decorative behind the white peas that I don't want them to form pods. Besides, there are beets, turnips, onions, radishes, cabbages, brinjals, and okroes, all nearly ready for the table. It was worth the pain in the back and the blisters!
'Talking about blisters, I went out in my small boat the other day, and was exposed, with nothing on but a bathing suit and a topee, to the sun's rays for eight hours, partly fishing and partly exploring some wonderful caves, and came back distinctly red. The part it got me worst was along the shin-bone. The next day it set up a periostitis, probably because I played four sets of tennis on my return. Anyhow, my legs were like those of an ancient mahogany table in size and complexion, and I was on the flat of my back for eight days. However, I read a lot, and had much joy from reading Thackeray's Book of Snobs, especially the Yellow Plush Correspondence and the History of Mr. Titmarsh.'
October 25, 1920
'It is pouring as it only knows how to in the tropics – not a constant drip, but a steady cataract, louder by its rattle against the cocoanut palm leaves, and giving one the sensation that it is bound to go on for ever – an eternity of grey lowering sky with straight lines descending from it, and a constant sizzle like a huge pot boiling all around one. The duck family are having a gala day, in and out of one pool after another, and bowing to each other every minute in a manner which is not in the least bit courtly but rather ridiculous. I think the vegetable garden must also be having quite a happy day; I got a basket of green peas out of it on Saturday, and a home-bred duckling's number went up as a suitable sacrifice.'
January 12, 1921
'I am in the throes of departure from the Isle of the Blest. I have told the Manager I can't remain a single trip longer!
'I got up a vaudeville show for Hogmanay, which went off very well. Amongst other turns I found two Malays who danced very well, and they gave an exhibition of Eastern dancing; and in the coolie lines I found a coolie who was a really good conjuror and illusionist. I had to have several weird boxes made for him, but he did all Maskelyne and Cooke's tricks of tying people up in a box, which was locked and roped, and out of which the man emerged unscathed. Afterwards we gave them supper in the "big house" (his own new house) and so saw in the New Year.
'Unfortunately the presents I ordered from Singapore did not arrive in time to give the kiddies their Christmas Tree on Christmas Day, but as soon as the Islander arrived this time we had it.
'Well, this is the last letter from the old spot. I shall miss much that I love about the old place: the early morning rides through the jungle before the sun is up, when the perfume of the wild tobacco hangs heavy on the air; and the moonlight nights out in the Thistle in Flying Fish Cove, and much else. But so it was written.'
He arrived in January 1921 at Hong-Kong. Dr. Fitzwilliams had by then given up medicine altogether, and Dr. Strachan was now his partner, but he went on leave shortly after Allan's return.
Allan's position in Hong-Kong was naturally very different from what it had been when he started in 1910. Instead of anxiety about getting work, he was now overwhelmed with it. It was refreshing to find how welcome his return was to old patients. The Chinese flocked to him, and in two weeks he was back to the old routine: 'a tiffinless day and dinner at any time.' In a way he was glad of this, though he sighed for the leisure he had left behind, because financially the position was serious, expenses had increased enormously, and he had leeway to make up. But the overwork he plunged into was false economy, and speedily told on his health.
In July he all but died of pneumonia and pleurisy. That he recovered was due to the skilful nursing of the Sisters (of the Order of St. Vincent de Paul) at the French Hospital. He wrote from there:
'I am in hospital, having gone down with double pneumonia and pleurisy, and I think I should have gone west if it had not been for the top-hole nursing and the oxygen. For the last two days before the crisis I really wanted to pass out; bars of iron round the chest, and a dagger stabbing one in the heart all the time. Now I can sit up a bit, and I hope in a few days to get up to the Peak. I have had a house with a glorious view and a garden lent to me, and I shall go up there and lie back, but I must get to work as soon as I am fit. It is not possible to get away, as Strachan is at home just now.
'This is a bad blow for the practice. I really had been working too hard – that was why I literally found no time to write to any one; breakfast at 6.45 A.M. and then hard at it all day, dinner at 11.30 P.M. Now when I am fit I shall live on the Peak. That will make things easier.
His astounding vitality as usual led to a rapid recovery, and by August, really far too soon, he had begun work again. From his friend's house he wrote:
'I have escaped a lot of the heat by coming up to the Peak and lying back in a lovely garden in lazy indolence, with one of the most beautiful views in the world spread out in a panorama below me, a view of the bluest of seas dotted with islands, with bays and creeks and rugged green hills for all the world like the west of Scotland. It is only when a typhoon threatens that the air up here becomes really dead and horribly depressing. I am very much fitter, and am going down to my office to-day for a few hours. I can't get away, but I shall go easy to start with. Alarming reports of how things have fallen off keep on reaching me, and so it is high time I got back into the thick of things.'
It was after his recovery that he left Kowloon and went to live in the beautiful flat in Branksome Towers, which he shared with Colonel Nicholson and Commander Hake, and settled down (though 'settled' is not a word that can be aptly applied to any one with his restless energy) to four years of continuous work. Some idea of the tearing Tush he lived in can be gleaned from the following vivid little pictures of this time which have been supplied by Colonel Nicholson and 'Ah Lum,' his devoted head 'boy.'
---
Hong Kong Recollections: Branksome Towers
By Lt.-Col. W. N. NICHOLSON, C.M.G., D.S.O., 1st Suffolk Regiment
'The introduction must be at breakfast-time when the master of the house, Dr. Dalmahoy Allan, sits at breakfast. His watch is beside him on the table, and "Barabbas" (one of the "boys") is in the watch-tower, on the look-out for the Peak tram to pass Barker Road, and to shout. Breakfast is a hurried meal. Ah Lum, "Rupert," and "Roger" are all in attendance. Ah Lum is hovering between the table and the telephone: "Dr. Allan in his bath" – "Dr. Allan just gone out" – are invariable answers to inopportune callers, while the individual in question sits swallowing his breakfast; "Rupert" on one side spreading his toast and butter, "Roger" on the other fanning his two cups of tea. Then, almost before the breakfast is started, comes the shout from "Barabbas," "Barker Road," repeated by the cook, and taken up by the other boys. Allan stuffs his watch into his pocket, takes his last gulp of tea, and departs running, preceded by "Satan" – "Satan" who has a cunning way of delaying Peak trams by pretending to get in or get out.
'Not much of a description of the master of the house, but almost as much as any one who lives with him is likely to give after the first month, for after that strenuous five minutes the house knows him no more till he returns about 11 P.M. for his dinner, worn out. A man of immense energy and vitality, but seemingly without the body to stand the strain.
'Hake and I, who live with him, sometimes don't see him for two or three days, and then only for a fleeting moment. Every other Sunday he is nominally off duty, so maybe once a month I get better acquainted with him.
'Meanwhile in the daily round, Hake and I have eaten our breakfast; no rush here, some little fuss, perhaps, while "Rupert" and "Roger" or perhaps both are looking for something Hake has mislaid, and then we stroll off together to walk down the Hill, "Rupert" solemnly wishing us "good-bye." Then, I think, the flat sinks into complete repose.
'Allan wastes no time on the march, his legs or his wheels exceed all speed limits. Hake and I take it very easy down to Bower Road, through the corner of the Botanical Gardens. It is a pleasant road, past flowers and shrubs, but in the summer-time one arrives dripping at one's office. I am the first to return to Branksome Towers, generally at 3 P.M., and am rapturously greeted by "Micky," Allan's Airedale puppy. It is astonishing how dogs resemble their masters. "Micky" is comparatively sober with me but turbulent with Allan. He has all his vitality and quickness. "Paddy," Hake's spaniel, is ponderous; "Micky," like Dalmahoy, gives us all an equal unconditional affection.
'Branksome Towers is an enormous new building by May Road Station. Allan has No. 12, a flat of five large rooms, with bathrooms and every convenience. It is his furniture, and the dining-room and drawing-room are full of his curios. You could tell a part of his character from these Chinese friends. He has a large and varied collection; snuff-bottles are his favourites, and he found time, I don't know how or when, to arrange them so as to show their colours and designs to the best advantage. He has the finest blackwood porcelain screen I ever saw; brasses, pictures, porcelain, and the like. When you ask him about any of them he will tell you their history, and to have a fair knowledge of Chinese art is to have devoted a considerable time to the subject, or else to have a very quick brain. He has a Korean cabinet full of scrolls of honour, embroideries, and the like, and the dining-room has many bits of porcelain and stone, silver ornaments, and Chinese scrolls, almost all presented by devoted Chinese patients. What he likes he buys, and the rest of the room is full of his gifts.'
---
An Ordinary Day
By Ah Lum
'The day has twenty-four hours, so let us begin from midnight. This would be the time after Dr. Allan has just had his supper, undressed, and is about to go to bed. "Call me at seven to-morrow, for I have operations to do at the Hospital and have this list of patients to go through in the forenoon. If I do not wake up, pour some cold water over me." He says this and goes to bed, not to sleep straight away, but to pick up the latest novel and start at it for an hour or so.
'It is now 7 A.M. and he is awakened. Bath is made ready for him, and he jumps out of the bath and he rushes in to get dressed. In the meantime, breakfast must be ready exactly at five minutes to eight. As he sits down, the porridge must be pushed in front of him, just warm enough for rapid consumption. He goes through course after course, but the whole breakfast must be completed exactly at 8 A.M., that is, in five minutes. Ah Lum has already stationed the house coolie outside to watch the eight o'clock tram passing, and as the tram passes Barker Road the coolie is instructed to shout. This is heard by the Number three boy who carries it on, and the boy serving breakfast, as well as Ah Lum, join in the shout, "Barker Road." As soon as Dr. Allan hears this he leaves his chair, rushes out, and during the rush his hat and bag are handed to him. He runs down the steps and reaches the May Road Station just in time to catch the tram.
'The Peak tram is a rope tram running up a very steep incline between the lower levels of Hong-Kong and the Peak. Dr. Allan lived in mid-level. The tram therefore picks him up from there and brings him down to the lower station. There he is met by his own motor car, or rather one of his four (and at one time five) cars, run by his firm. This brings him to the Hospital exactly at 8.30 A.M., where he is met by his partner, and all operation work begins. Immediately the surgery work is finished, he attends to the out-patients – they usually consist of the poorer classes whom he attends and never collects any money from them. Some of them, however, leave what they can afford behind, and at the end of an hour or two he collects these little subscriptions and hands the lump sum to the Head Sister, saying, "Chicken-food for this morning's work, Sister; this will help to pay for some of the bandages and medicine issued by the Hospital for the poor."
'It is now about eleven or twelve noon, and he leaves the Hospital, carrying with him a call list collected during the previous evening by Ah Lum, and during the morning by the Hospital telephone clerk. This list is numbered and marked by him as he is on his car. He instructs his chauffeur to drive to the urgent cases first, and calls on all the patients on the list.
'Under ordinary circumstances, this work is hoped to be finished about 2 or 3 P.M., at which time he is landed at his own office, where a list of telephone calls between the time he left Hospital and 3 P.M. is handed to him by his office boy. To this list he adds on all calls he receives while he is at the office, and these patients are to be visited during the evening round. Patients at his office begin to be treated by him, and a continuous stream of them keep arriving until about 7 P.M., when some of them are reluctantly turned away to be told to call next day. This office work continues until 8 P.M., and he then goes out for the evening round, which lasts till ten or eleven, when he comes home. The day then starts again.
'No mention has been made of his tiffin or tea, for at no regular time this is ever taken. Tiffin is brought down to the office at 1 P.M. The tiffin boy waits until he is told to serve tiffin on the veranda outside the office. Dr. Allan then suddenly rushes out and has it in five or seven minutes, and then continues his work. It is not an unusual occurrence for him to have tiffin at 5 P.M. and tea at 8 P.M. It will be seen from the foregoing that his life is one of rush, hustle, and bustle, caused both by his natural ways of feeling distressed when at rest and also by his own popularity, coupled with his outstanding ability as a doctor. This being a description of an ordinary day's work, does not include any urgent night visit which he has to wake up to do, and yet be at the Hospital early next day.'
---
Chapter 6
The Last Chapter
The unwisdom of such a life as Colonel Nicholson and Ah Lum have described is obvious. The marvel is that he stood the pace so long and, perhaps more remarkable still, that he maintained both his old light-heartedness and his interest in the lives of others.
In the spring of 1925 a cable recalled him to this country, his father being seriously ill. To leave China at this juncture was not easy, as troublous times were beginning, but he at once made preparations to start, leaving his practice to his partners, Dr. Strachan and Dr. Thomas. He came home by Canada and America, staying a few days at Montreal, largely to make the acquaintance of a little godson, his cousin's child, and from thence went to New York, where he was almost overwhelmed by the hospitality of some opulent friends who were in his debt for kindness shown in Hong-Kong. Hearing he was in Canada, they offered to send an aeroplane for him, if by this means a visit would be assured.
By the time he reached Scotland his father was much better, and Allan was able to plan and achieve one of his magnificent holidays. In the 'sewing machine,' as he called his little Morris car, he sped about the country, disappeared into lonely parts, revived old memories, visited favourite haunts, golfed, fished, and shot, linked up with old friends and made new friends with the younger generation (no unknown Joseph was he to them) – leaving behind a memory so gay and brave, so wise and lovable, that it remains an inspiration to all who met him.
His headquarters were of course in Edinburgh with his father, whom he escorted to Kingussie in the beginning of July. He had set his heart on a reunion of the Royal Infirmary Residents of the summer of 1906, and managed to collect nine of the original nineteen, and they dined together in July in Edinburgh. It was nineteen years since they had met, their lines had been laid in very varied places, but in one respect it was as of old, for Allan was again the central figure and the link which held them all together.
With two friends, he had taken a shooting at Cluanie in Ross-shire, and with characteristic speed he raised keepers, dogs, cook, and provisions – indeed, most of his arrangements were completed during a rapid drive between Kingussie and Oban, completed most successfully too, and Cluanie he termed 'an oasis in the desert of life.' Everything was as it should be, he and his many guests were happy together, sport was excellent, his health never so good; the longest day and the steepest hills were never too much for him by his own account!
Suddenly in September these good days ended. A telegram arrived, announcing that his father was again very ill. He drove straight across to Kingussie, a wild and difficult road by night. His car broke down, and he arrived very late and badly, done, to find his father seriously ill with pneumonia; but he rallied, and before long they were able to move him to Edinburgh. Mr. Allan possessed the same vitality which was so remarkable in his son, and in Edinburgh he rapidly improved. Freed from anxiety, Allan was able to enjoy the large circle of cousins and friends around Edinburgh, besides brief periods in more distant parts. In the autumn he fished with A. I. Shepheard-Walwyn, and as a proof of his staying-power, I quote his friend's description of this expedition:
'We went up to visit the old haunts at Glad-house. We took our lunch with us and ate it at the very spot where we used to have our fire through the night, and where we had always camped twenty to twenty-six years previously. On our way home we looked up Mother MacGlashan. On Loch Rannoch we only stayed two days, for the fishing was poor, but we worked very hard. We motored up there and arrived at 6 P.M. We went on to the loch at 8 P.M., fished till 8 next morning, came back to breakfast, started again at 10 A.M., fished all day, all night, and all the next day till 5 P.M., when we decided it wasn't good enough and we motored down to Loch Awe that evening. When at Loch Awe we went up Ben Cruachan, and Jimmie climbed without apparent effort, twice as fast as I could, and I felt his heart couldn't be so seriously damaged as I had previously been told.'
Though his father was so much better, Allan was apprehensive of a sudden change, and he knew it would be unwise to leave this country, but his appetite for work required appeasing, so he occupied his spare hours in the hospitals and by perfecting himself in X-ray work (he bought very costly plant, which he took back to Hong-Kong).
In November he wrote:
'My "aged one" is well and full of go; he does his daily prowl along Princes Street to his Club, and seems quite happy. I am working hard now, having had such a wonderful holiday and not being able to go back to Hong-Kong. It is up to me to acquire knowledge, and so I am daily at the R.I.E. in the X-ray Department, and doing a lot of assisting at operative work outside, seeing new methods and time-saving devices, altogether of much value.
'In the evenings I have taken to the "roaring game" at the Rink. It is a splendid pastime and good exercise!'
His father's improvement continued, and Allan therefore arranged to act as Resident in the Glasgow Maternity Hospital, an unusual step for a man of his age and standing, and there was much that was uncongenial to him in the life. A maternity hospital cannot afford to be luxurious, and Allan, keenly appreciative of comfort, was always sensitive to his surroundings; but it was typical of him that the desire for knowledge and experience outweighed lesser considerations. Typical also that he adapted himself to the conditions and won the affections of his young colleagues. At one time he was doing double work, so as to allow respite to 'two young blighters' who needed a holiday more than he did.
At the end of the year 1925 his father suddenly became very ill, and this time it was the beginning of the end. There followed a few weary trying weeks waiting, watching, knowing nothing could be done for his 'aged one,' knowing, too, that within sight was the breaking up of his old home and the severing of many ties. He had other anxieties as well. Chinese affairs were becoming steadily worse, and the financial position almost hopeless. But few guessed what he was passing through. He gave the impression of a buoyant creature, the world going well with him, and a prosperous career ahead. He appeared entirely happy, and was in fact happy with his friends, for at this time, as always when in trouble, Allan showed the faculty for keeping his life in separate compartments. He could free-wheel his mind, and detach himself from his sorrows.
Fortunately his father's last illness ended suddenly and peacefully. He wrote immediately after his death:
'It is a wonderful memory to have; that of a little old man of huge vitality, who went through eighty-seven years of life's misadventure, and remained a saint, but one who never thrust it down other folks' throats, and a child in his utter simplicity.'
Allan at once secured a passage to India, crammed an immense amount of business and farewells into a few days, and sailed on February 4. He managed to have an hour or two with one brother at Marseilles, and a few days with his elder brother at Nagpur (whom he had not seen for seventeen years), after paying a brief visit to his cousin, who was Commissioner in Sind. He did not, however, have a shot at a tiger while at Nagpur, which had been part of his programme.
He arrived at Hong-Kong in April 1926, and was almost at once in the full tide of work. He was deeply interested in the political situation which had arisen in his absence. Through his Chinese friends, he saw things from another angle than the official one. The Hong-Kong he had returned to was an altered place; millions of dollars had been lost, and local shares were valueless; business at a standstill, but with all he felt 'there is a healthy optimism, and an atmosphere of comradeship which has been engendered by the psychology of mutual misfortune.'
His intimacy and influence with many Chinese gave value to his opinions, and he might have been of great service to the British authorities, but very shortly after his arrival he was taken ill with influenza. His flat at Branksome Towers was not in order, and he was living not too comfortably in an hotel. He refused to give in at first, in spite of pain and fever, but finally let himself be moved to the French Hospital.
From the first, the seriousness of his case was realised. All that care and skill could do was done to relieve him, but his suffering was great, and lasted through the terrible heat of the summer months. His right arm and leg became paralysed, and his friends almost dreaded that he would recover in a maimed condition. Allan alone was optimistic, and could speak cheerfully of what he still would accomplish as a cripple with a damaged heart. One who was with him all the time wrote:
'I need not tell you of his wonderful fortitude and self-control. He always thought of others, and it was difficult to find out how intensely he suffered – he so feared giving trouble.'
The heat was unendurable, and towards the end of August he was moved to Dr. Strachan's house on the Peak. It was risky to do so, as he was now very ill, but the cooler air revived him, and he suffered less than before. The darkest hour was now past. There were black times of pain, but he was serene and even happy. The night before he died, an old friend, who had seen him and watched over him every day during his illness, read at his request an article on trout fishing, then the 34th Psalm. They said the evening prayers together, and she left him peaceful and content. He died early the next morning, on September 8.
As Allan lived, so he died. The hardest conquest of all – of self, of pain, and of renunciation – was his. But he possessed the great primary virtues of simplicity, kindness, and mirth, and so the step he had to take was but a short one. He went down with colours flying – a lesson to all of us who may be faint-hearted.
He lies buried in Happy Valley, near Hong-Kong, in a grave which is always covered with flowers.